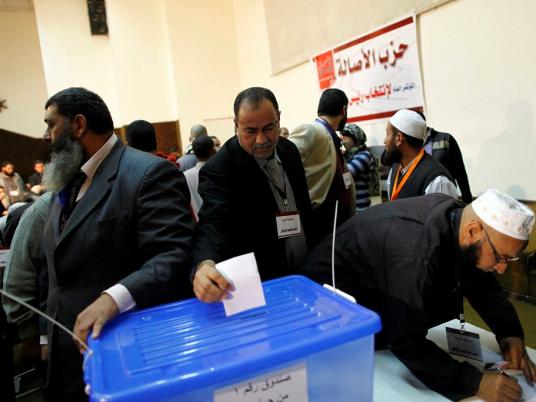 The High Judicial Elections Commission is set to hold an emergency meeting Thursday evening to decide its position on a ruling that called off upcoming parliamentary elections.
An administrative court handed its decision down on Wednesday and ordered the Supreme Constitutional Court to review an amended elections law to ensure it followed the Constitution.
The elections committee had been set to open nominations for candidates planning to run in the House of Representatives on Saturday. The elections were set to be held in four rounds beginning 22 April.
Commission member Abdel Rahman Bahloul said the commission would make a decision on whether to delay the nomination period, in light of its study on the court's ruling.
Bahloul told Al-Masry Al-Youm that the commission would continue to work normally until it discusses the ruling. He stressed that the commission is committed to respecting the judiciary's provisions.
Another commission member, Ahmed Abdel Rahman, who is the Court of Cassation's first deputy chairperson, confirmed that the commission had not made a decision on whether to delay the nomination period.
"We have not met since the administrative court ruling to halt the elections," he told Al-Masry Al-Youm. "We were supposed to meet Saturday."
The commission had met Saturday and decided to start accepting nominations for candidacy this coming Saturday, and the Shura Council, the lower house of Parliament, had previously approved amendments to the elections law recommended by the Supreme Constitutional Court. But controversy arose over the need to send the amendments back to the SCC, which the administrative court deemed necessary.
Edited translation from Al-Masry Al-Youm