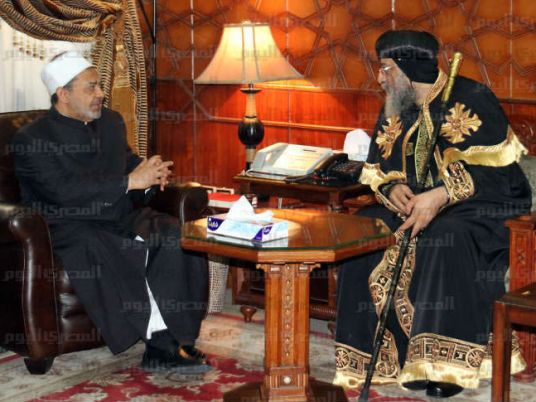 A delegation of Egypt's Copts Coalition on Thursday submitted a draft law on sectarian strife to Pope Tawadros II, who promised to study it and set a date to discuss it with them.
The delegation said it is also meeting with Al-Azhar Grand Sheikh Ahmed al-Tayyeb on Tuesday to discuss the draft.
The draft consists of 12 articles, most notably an article that emphasizes the freedom of belief and religious conversion as of the age of 21 under guidance sessions by a sheikh of Al-Azhar, a priest and a judge. It also contains an article that regulates freedom of religious practice in accordance with the Egyptian law.
The draft criminalizes contempt of all religions, affirms non-discrimination in all aspects of life of the Egyptian citizen and bans the withholding of any job or promotion in the public and military sectors on sectarian basis.
It calls for material at all stages of education to teach the principles of full citizenship and of tolerance and love among the people of the nation.
It suggests a 15-member neutral committee to monitor the implementation of the law, consisting of men of law and representatives of Al-Azhar and the Church, the National Council for Human Rights, the different popular currents and the presidency.
The coalition had submitted the draft to the presidency as well.
Edited translation from Al-Masry Al-Youm