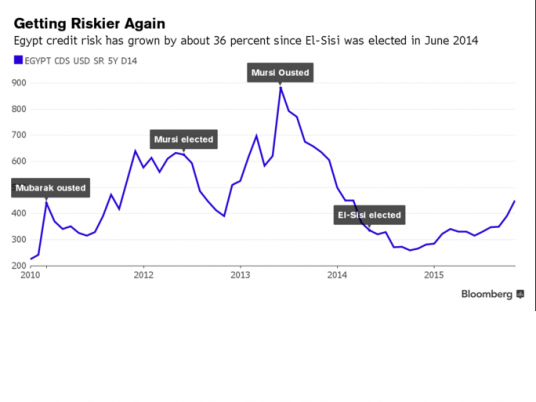 Egypt's credit risk has grown by 36 percent since President Abdel Fattah al-Sisi was elected in June 2014, according to a
Bloomberg report
.
Egypt's economic outlook has led to a sharp increase in the country's sovereign risk profile, international credit rating agency Moody's said in a recent report, according to a
research
report
issued by
Sigma Capital on Tuesday.
"The one-year External Default Frequency (EDF) for Egyptian government debt increased from 0.09 percent in early October to 0.18 present in the week ending on November 20," Moody's said
Meanwhile, Egypt's five-year Sovereign EDF rose from a low of 0.68 present to the current figure of 1.18 percent, Moody's added.
A graph published by Bloomberg(2015).
Total government debt (domestic and external) reached LE2.2 trillion (US$281 billion) at the end of March 2015, compared to LE1.8 trillion at the end of March 2014 according to the latest Financial Monthly
Bulletin
.
At the end of October,
Financial Times
reported
that Egypt's bonds have been sliding hard and fast and the cost of insuring them against default has risen to levels not seen since before Sisi was elected
Egypt's economic outlook has deteriorated since the October 31 bombing of a Russian passanger plane that crashed in Sinai, an attack that was claimed by the Islamic State's affiliate in Egypt.
The jet crash followed a growing shortage of dollars, now being worsened by the lack of tourists. Tourism is among the country's biggest foreign-currency earners.