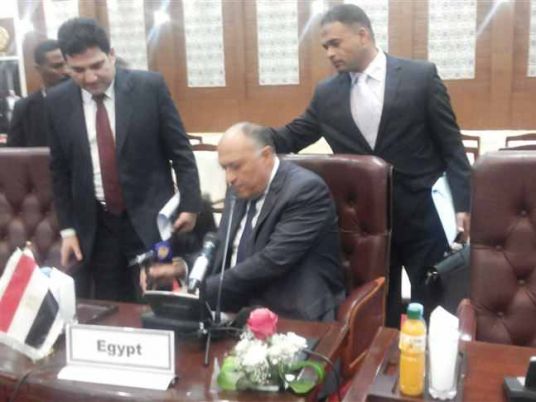 Egypt's Foreign Minister Sameh Shokri pushed away a microphone belonging to Qatari satellite TV channel al-Jazeera during a conference in Sudan's capital on Saturday. This is yet another sign of strained relations with the Gulf kingdom that openly opposed the ouster of former leader Mohamed Morsi by incumbent Egyptian President Abdel Fattah al-Sisi in 2013.
Shokri was attending a ministerial meeting with his Sudanese and Ethiopian counterparts to discuss technical differences over Adis Ababa's Grand Renaissance Dam project and its effect on the Nile River flow to Cairo and Khartoum.
"Take this thing away from me," Shokri said while delivering a closing statement for the meeting, pushing the Qatari channel's mike away from his table.
Al-Jazeera has been the subject of fiery attacks from Sisi's government, the media and people who believe its reports are biased toward Morsi's Muslim Brotherhood, particularly after it reported that Morsi's ouster was equivalent to a military coup.
Egypt had prosecuted seven journalists from the network for disseminating false news during the uprising against Morsi, but later deported them offering an official pardon after conviction.
Edited translation from Al-Masry Al-Youm