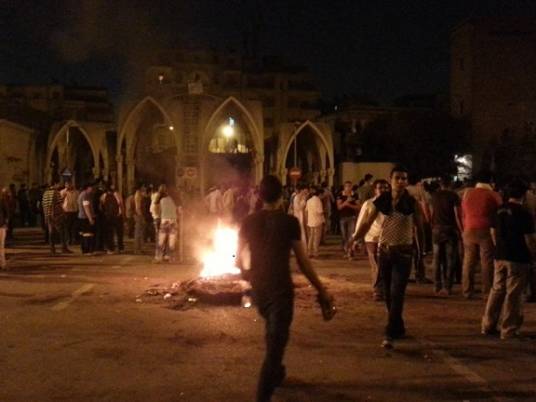 Egypt's interior ministry said on Monday that people in connection with Muslim Brotherhood group were behind the bombing of St. Peter and St. Paul Church in Cairo.
The blast, which coincided with the Muslim celebration of the Prophet's Birthday, killed 25 and injured dozens of worshippers at the church attached to one of Egypt's most symbolic sites for Copts, St. Mark's Coptic Cathedral.
In its statement, the ministry said it arrested four people including a woman, who are believed to have collaborated with a 22- year old suicide bomber in scheming the attack on the Cathedral's compound.
The ministry also said that one of those arrested is the brother of a 30-year old man by the name Mohab Mostafa al-Sayed Kassem, who was "closely associated" with the Muslim Brotherhood group in Qatar.
According to the ministry, Kassem, who is on the run, received logistical and financial support from the Muslim Brotherhood group with the aim of "destabilising" Egypt.
The ministry's statement said that the Muslim Brotherhood Group in Qatar assigned Kassem to start planning for "terrorist operations" targeting Copts. Accordingly, he formed a group of people with similar ideologies and started training them to carry out attacks.
President AbdelFattah al-Sisi named on Monday Mahmoud Mostafa as the suicide bomber behind the attack during the state funeral of the victims, which was held at the Unknown Soldier Memorial in Nasr City.
Egypt is observing three days of mourning following the explosion.
The explosion at the Cathedral's compound came two days after two explosions took place in Giza and Kafr al-Sheikh killing six security personnel and a civilian.
Militants have stepped up attacks targeting security forces in Egypt, since the ouster of Islamist President Mohamed Mursi in July 2013 after mass protests against his rule.