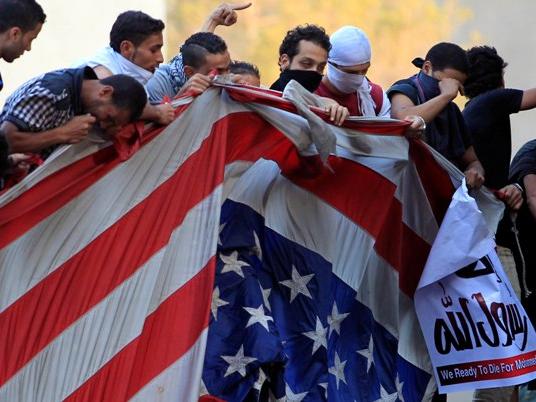 An Egyptian Interpol official said Wednesday that theoffice sought the issuance of a red bulletin, an international wanted persons alert, against the eight defendants implicated in producing an amateur film that denigrates Islam and Prophet Mohamed.
"The warrant of arrest was issued [in Egypt] against the defendants after the prosecutor accused them of committing crimes harming the unity of the nation and defamation of the Islamic religion," said the head of Egypt's Interpol office, Brigadier General Magdy al-Shafei.
He added that his office had asked its counterpart in the US to arrest the defendants. While the US has condemned the film as reprehensible, it is unlikely the American government would prosecute the filmmakers given protections for free speech and expression in that country.
However, this has not stopped Muslim protesters around the world and some political leaders, including President Mohamed Morsy, from calling for action.
Responding to protests against the film last week, US Secretary of State Hillary Clinton upheld the US Constitution and the First Amendment guaranteeing the freedom of speech.
"Our country does have a long tradition of free expression, which is enshrined in our constitution and in our law," she said. "We do not stop individual citizens from expressing their views no matter how distasteful they may be."
Public Prosecutor Abdel Meguid Mahmoud referred the eight people believed to be involved in making the "Innocence of Muslims" to Cairo Criminal Court on Tuesday, and ordered that they be taken into custody on charges of producing a film that defames the Prophet Mohamed.
Shafei told Al-Masry Al-Youm that Egypt's Interpol office will send a request to the Department of Legal Affairs to issue a red bulletin against the defendants in 190 countries after receiving a copy of their court referral.
Shafei added that Interpol's Department of Legal Affairs should examine the request and issue the bulletin if all the legal requirements are met. The defendants can then be arrested and extradited to Egypt, he said.
Edited translation from Al-Masry Al-Youm