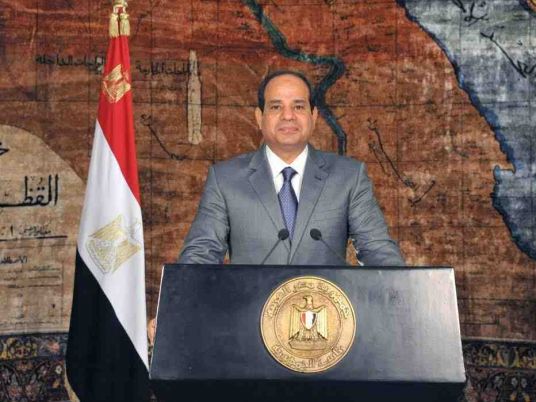 Seventeen newly-appointed governors took oath at the presidential palace on Saturday, shortly before meeting with President Abdel Fattah al-Sisi.
The taking of oath ceremony was broadcast on state television.
After the ceremony Sisi held a meeting with the new governors and the 10 old governors, in which he instructed them "to maintain security and stability and work on achieving success during the coming parliamentary elections (due to begin in March)", according to a source from the presidency.
Prime Minister Ibrahim Mehleb proposed to Sisi the latest governors' reshuffle during a meeting at the presidential palace on Thursday, said Presidential Spokesman Alaa Youssef in a statement.
The reshuffle includes new governors for the governorates of Giza, Alexandria, Ismailia, Port Said, Assiut, Marsa Matrouh, Sharqiya, Gharbiya, Daqahliya, Sohag, Fayoum, Menufia, Kafr El-Sheikh, Luxor, Damietta, Beheira and Beni Suef.
It keeps the number and shape of Egypt's 27 governorates intact, despite earlier plans to change them.
Egypt's cabinet proposed last year a plan for border demarcation. The plan is set to introduce big changes to Egypt's map. The demarcation would increase the size of some governorates at the expense of others.
The demarcation plan involves adding three new governorates to Egypt's map: one in central Sinai, one in the North Coast region of al-Alameen and a third combining the Western Sahara oases of Farafra and Bahariya.
Ahmed Hisham, the director of the National Council for Planning the State Lands' Usage, told Aswat Masriya that the cabinet has postponed the demarcation plan until "societal dialogue" is held over it.