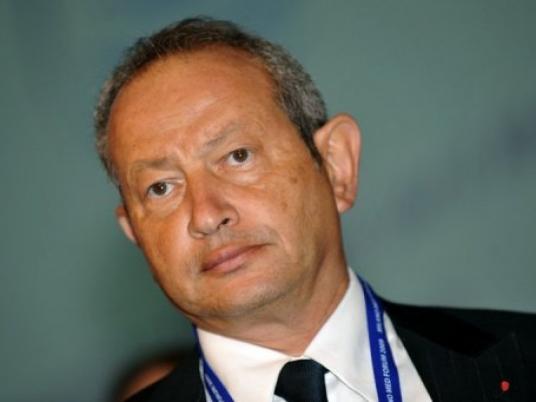 Egyptian billionaire Naguib Sawiris plans to bid for Brazilian wireless carrier TIM Participações SA (TIMP3.SA), according to a newspaper interview published on Saturday, adding pressure to a delicate standoff between two European telecom giants.
Sawiris told Folha de S.Paulo that Spain's Telefonica SA (TEF.MC) has pushed TIM Brasil's parent company, Telecom Italia SpA (TLIT.MI), to break up the Brazilian unit and sell it to local players including Telefonica Brasil (VIVT4.SA).
"That is an idea defended by Telefonica on the board of Telecom Italia and I am vehemently against it, because it will devalue not just Telecom Italia shares, but also the assets of all the parts," said Sawiris, a minority shareholder of the Italian company.
TIM Brasil, Telecom Italia, and Telefonica did not immediately respond to requests for comment.
Sawiris, who runs Orascom Telecom Media and Technology (OTMT.CA), has tried to break into the Brazilian market before and was looking to take a larger share of Telecom Italia before Telefonica tightened its grip.
The Spanish company's move in September to raise its stake in Telco, the holding company that controls Telecom Italia, was the first step toward taking the reins of its Italian peer. But its plans have run into resistance from Brazilian regulators.
Telefonica Brasil and TIM Participações together control more than half of Brazil's wireless market.
Antitrust watchdog Cade said in December that Telefonica had to find a partner for its Brazil unit or sell its indirect TIM Brasil stake, giving 18 months to resolve the issue, according to three sources.
Telefonica denied reports this month it was preparing a joint offer for TIM Participações along with local rivals America Movil (AMXL.MX) and Grupo Oi (OIBR3.SA).
Telecom Italia said last week any offer for TIM Brasil would be evaluated by independent directors, adding no plans or talks were underway to sell TIM Brasil nor had it received any offer.
The first attempt by Sawiris to enter Brazil came in 2007, he told Folha, when he made an offer to take over Brasil Telecom, a company eventually acquired by Grupo Oi.
Sawiris discussed his new plans with the communications minister late last year during a visit to Brazil, he said.
"I told the minister it would be an awful idea for the Brazilian government to allow the breakup of TIM," Sawiris told Folha. "I am one possible buyer of TIM, if it is sold."