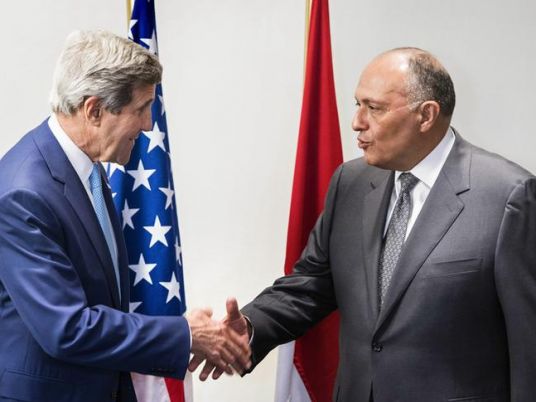 Egypt's foreign minister discussed a 1995 resolution to create a Middle East zone free of nuclear weapons with his American counterpart, on Tuesday evening.
The Egyptian Foreign Minister, Sameh Shokry and US Secretary of State John Kerry met in New York and discussed the Treaty on the Non-Proliferation of Nuclear Weapons (NPT), at the sidelines of a review conference of the treaty.
In 1995, at a review and extension conference of the NPT, a resolution was passed, calling upon all states in the Middle East to establish "an effectively verifiable Middle East zone free of weapons of mass destruction, nuclear, chemical and biological…"
Shokry stressed the "responsibility of the international community" in implementing the resolution during his talk with Kerry, a statement by Egypt's Foreign Ministry said.
The NPT was opened for signing in 1968 and Egypt signed the treaty this year, ratifying it years later in 1981. Israel, however never signed the treaty and is not a state party to the NPT.
Shokry told Kerry it was necessary to explore new procedures and measures for the next five years within a framework that keeps the "delicate balance" between the treaty's three main pillars, nuclear disarmament, non-proliferation and peaceful uses of nuclear energy.
The NPT, which came into effect in 1970 has since been reviewed several times.
An NPT review conference has been held every five years, since 1995. This year's review conference is running from April 27 to May 22.