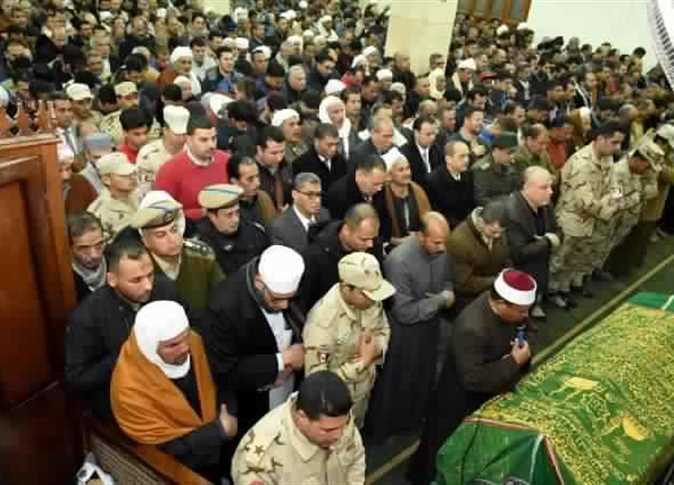 Thousands of Egyptians in Cairo and the governorates on Sunday celebrated the funeral of 15 martyrs of Egypt's Armed Forces who were martyred during a terrorist attack on a security post belonging to the 408th Infantry Regiment of the rapid deployment forces in North Sinai.
Participants in the funerals chanted slogans denouncing terrorism and demanding retribution for the lives of martyrs.
The funeral of the martyr Captain Abdul Rahman Ali started from Al Hosary Mosque in 6th October City.
The residents of Abu Hammad, Faqous and Kafr Saqr in Sharqiya governorate participated in the funeral of the martyrs Abdul Rahman Solaiman, Hazem Mohamed and Mohamad Ali in solemn military and public funerals.
The mourners chanted "Terror is the enemy of God" and "Oh martyr, rest in peace and we continue the struggle."
In Qaluobeya, the people of the city of al-Khasous participated in the funeral of the martyr Alaa Abdullah in a solemn military funeral. His father said, "My son is a sacrifice to Egypt."
Meanwhile, the people of al-Daer village in Tukh city, Qaluobeya governorate, placed the martyr Ahmed Abdel Fattah in his last resting place, and the women made the Zaghared (trilling sound) amid the cries of his relatives.
Abdel Fattah's wife said that he had only 20 days left to finish his military service, but fate did not give him the time and he died as a hero.
The people of Matay al-Balad village in Minya governorate received the body of the martyr Arafat Mahmoud, chanting, "There is no God but Allah. Allah loves the martyr."
There was a state of sadness in al-Zena village, Damanhour city, Behaira governorate after the arrival of the body of Mohammed Saafan. His mother was in a state of total collapse, praying for him and crying.
Many people also gathered in Jehaina city and Edfa village in Sohag for the funerals of the martyrs Taha Khudairy and Ahmed Hassan.
Edited translation from Al-Masry Al-Youm