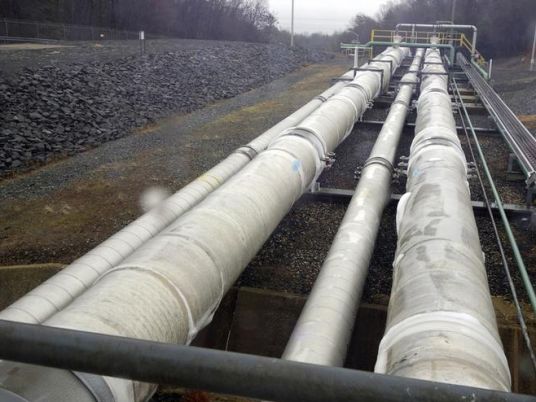 Egypt has signed its first contract to extract gas by fracking in a deal with Apache and Shell Egypt that includes investments of $30-$40 million, the oil ministry said on Wednesday, part of efforts to boost output and ease a lingering energy crunch.
"The project will require horizontal drilling and hydraulic fracturing, which is the same as the shale gas production method used in the United States," the oil ministry statement said.
The ministry said in a statement that the deal to drill three wells in the Abu al-Ghardeeq region of the Western Desert, about 200 km west of Cairo, was Egypt's first contract for the production of unconventional gas.
The head of Egypt's state oil company (EGPC) signed the deal with a senior executive of Houston-based Apache Corporation and the chairman of Shell Egypt, a subsidiary of Anglo-Dutch oil major Royal Dutch Shell.
Shale gas extraction is more expensive than traditional drilling and generally requires high energy prices to make it economically feasible. Global oil prices are at 5-1/2-year lows, with benchmark Brent crude futures under $60 a barrel.
A source at the petroleum ministry told Reuters that unconventional gas extraction in the Western Desert will require the operators to drill to depths of 14,000 feet.
The deal comes as Egypt is seeking new sources of energy to cope with its worst energy crisis in decades, caused by declining gas production and rising consumption.
Egypt reached an agreement with Norway's Hoegh LNG in November for a long-delayed liquefied natural gas (LNG) import terminal to be installed at the end of March, in time to receive cargoes before power demand peaks in summer.
It is also seeking a second floating LNG import terminal to boost its import capacity.