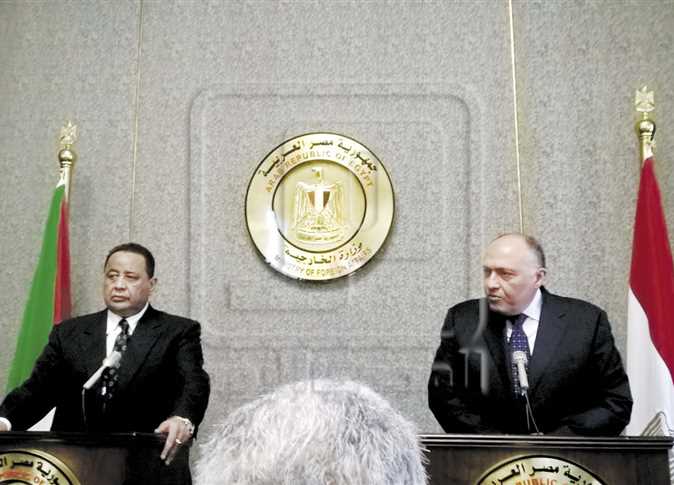 Egypt's Foreign Minister Sameh Shoukry said on Saturday that his talk with his Sudanese counterpart Ibrahim Ghandour in Cairo discussed the continuance of the periodic consular committee meeting between the two Afro-neighbors.
At a joint press conference held later on Saturday, Shoukry reaffirmed the "deep relation between Egypt and Sudan," adding that the meeting deliberated the country's' bilateral relations, as well as recent regional and international developments, including continuous communication on military and security-related issues.
Sudan's Foreign Minister, Ghandour, is in Cairo for a visit that could possibly be a preface to defusing tensions between the two neighboring countries.
Ghandour arrived in Cairo late Friday and was scheduled to meet with President Abdel-Fattah al Sisi later on Saturday.
The visit comes as Sudan's cabinet approved Tuesday a ban on imports of agricultural and animal products from Egypt, and also comes amid political tension that has flared between Cairo and Khartoum recently.
Egyptian-Sudanese relations have recently strained after Khartoum recommenced its claim to an Egyptian-held Halayeb-Shalateen Triangle, as well as saying that Cairo was supporting rebels in the restive Darfur region. Egypt has indignantly rejected the charge.
Earlier this year, the Sudanese President Omar Bashir said: "The Halayeb-Shalateen Triangle is a Sudanese area, but we are not going to war for it – it will be reclaimed through negotiations."
Before assuming the Egyptian presidency, President Abdel Fattah al-Sisi said: "The Halayeb-Shalateen Triangle is part of Egypt's territory. We urge Sudan not to start a conflict with Egypt."
Both countries have attempted to cool the rising disputes, with Egyptian Foreign Minister Shoukry visiting Khartoum on April 20 for talks with his counterpart Ghandour.
Sudanese President, Bashir, had previously accused the Egyptian media of attempting to aggravate tensions between Cairo and Khartoum, which have been on edge in recent months after Bashir claimed that Egypt is supporting Sudanese opposition figures fighting his troops.
The Egyptian media later claimed that Khartoum is offering refuge to members of the Muslim Brotherhood movement, which was declared a terrorist group by Egypt following the ouster of Islamist president Mohammad Morsi in 2013.
Egypt and Sudan agreed during previous talks that neither side would harbor nor support opposition groups fighting their respective governments.
But Sudan then introduced entry visas for Egyptian travelers on April 7, just as Egypt put similar impositions on Sudanese travelers.
In 2004, Egypt and Sudan signed the Four Freedoms Agreement, allowing citizens to move freely between both countries and live, work and own property without a permit.