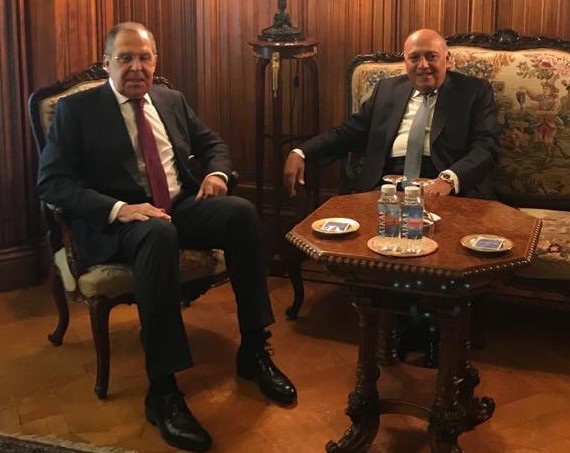 Egyptian Foreign Minister Sameh Shoukry said that he met with his Russian counterpart, Sergey Lavrov to discuss developments in the Grand Ethiopian Renaissance Dam (GERD) issue, and thanked Russia for its support.
During a press conference with Lavrov, Shoukry said "I thank Russia for the support that Egypt received to address this issue in the Security Council, and we look forward to cooperating with Moscow to reach a binding legal solution that guarantees the rights of all parties, away from any unilateral policies that are incompatible with international law policies."
Shoukry explained that he and Lavrov also discussed matters related to bilateral relations.
"We expressed our satisfaction with the periodicity of joint meetings between the two countries and the activation of  bilateral cooperation, which are great examples of fruitful cooperation, whether in the Dabaa nuclear plant, the industrial zone in Suez or tourist destinations, and we want the return of trade exchange after it was affected by the coronavirus pandemic."
They also discussed working to end the Palestinian-Israeli conflict, promote the two-state solution to reach a permanent, comprehensive and just solution to the Palestinian issue and to establish a Palestinian state on the 1967 borders, and we discussed the Palestinian unity.
"We discussed maintaining the stability and unity of the Libyan territories, activating the road map that took place during the Libyan National Unity Conference, and the exit of all foreign forces from Libyan lands, and we will continue to support the process until the Libyan institutions regain their full strength," he added.
And ways to promote an exit from the Syrian crisis in a manner that aligns with international legitimacy was discussed.