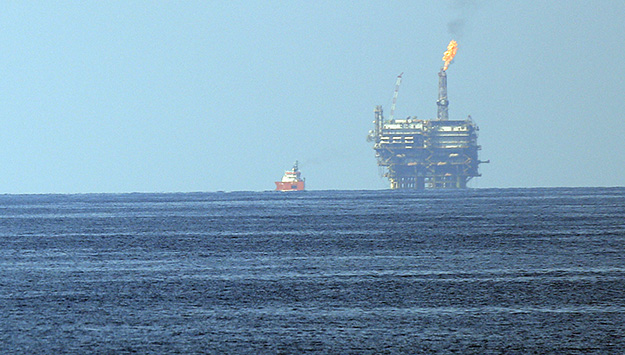 "Egypt will move from the group of countries importing natural gas to be an exporter by the end of 2019," General Manager of IOC Production Fabio Cavanna said in a meeting with Manpower Minister Mohamed Saafan at the Ministry of Manpower's headquarters on Monday.
In August, energy news site Oil Price named Egypt a strong contender to become a Mediterranean oil hub, due to its strategic location, exploration-friendly infrastructure, and ability to store and export petrol and natural gas.
The site found that Egypt had made the most out of its potential, with such deals as 2012's Cyprus-Egypt agreement for mutual exploration, and joint work on exporting gas to Europe.
Italian gas company Eni announced in May it had begun operating its third production unit in Zohr gas field. The move will bump production to 1.2 billion square feet daily which is equivalent to 200 thousand barrels of oil, according to a press release by Eni. Minister of Petroleum Tarek Al-Mulla had recently highlighted that the third production unit is strongly paving the way for Egypt to become self-sufficient with natural gas by the end of 2018.
Having met its own gas needs, Cairo is looking to kickstart exports and extend its regional influence.
It has signed deals to import gas from neighboring countries for liquefaction at installations on its Mediterranean coast, ready for re-export to Europe.
IOC Production is one of the branches of Italian company Eni that invests about $12 billion in Egypt.
Cavanna and Saafan also discussed the possibility of signing a cooperation protocol between the company and the Ministry of Manpower, in coordination with the Ministry of Petroleum, under which high-tech training programs for young people in the field of occupational health and work environment safety would be held.
"This training will create young cadres who can take responsibility at the highest level, as they will be trained in major international companies, such as Italy's Eni," Cavanna said.
"This comes within the framework of the Ministry of Manpower's current [efforts] to [hold] training programs involving the latest scientific methods with major international companies, specifically in the field of petroleum services," Saafan mentioned.
The two officials agreed on coordination between the IOC Production officials and the Ministry of Manpower regarding the protocol on training programs with regard to the duration, the number of trainees, their age group, the insurance coverage for each trainee, and the financial reward and certificates to be granted to them. The protocol will be signed in mid-January, the two officials agreed.
At the end of the meeting, Cavanna praised Egyptian workers, saying that if they have the proper tools and good training they become creative and one of the best global employment forces.
Edited translation from Al-Masry Al-Youm