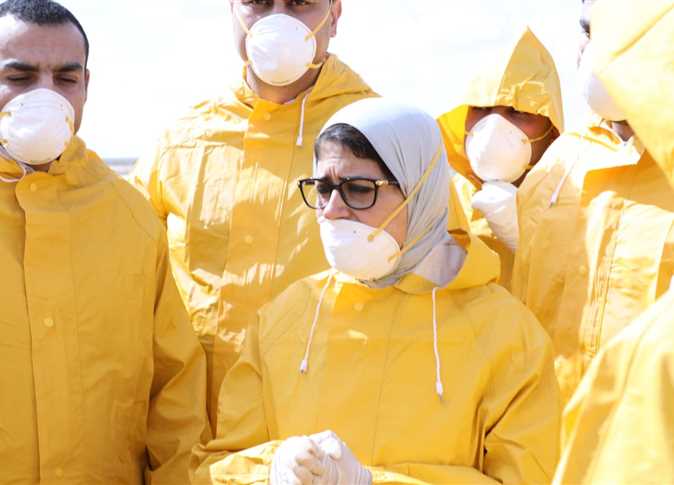 During a Tuesday press conference at the Egyptian Information Ministry's headquarters, Health Minister Hala Zayed said that Egypt has requested more powerful detectors to screen for the coronavirus which are set to arrive on Wednesday.
"Egypt is among the first four countries in the Middle East and Africa to obtain detectors for coronavirus," she announced, adding that the more advanced detectors will show results in just 30 minutes.
These new devices will be installed at land, air and seaports, she said.
Zayed also clarified that schools in Egypt will not need to shut down due to the coronavirus.
"There is no danger of going to schools. Countries with people who are more aware and able to maintain personal hygiene will be less affected," she said.
Twenty-six people left quarantine after they recovered from the coronavirus, Zayed said, while test results for 25 others came back negative.
She asserted that her ministry was following the World Health Organization's (WHO) protocol in handling coronavirus cases in Egypt.
During a Tuesday phone-in with the "Kol Youm" (Every Day) talk show on ONE satellite channel, the minister explained that 59 coronavirus cases have been confirmed inside Egypt, of which 51 showed no symptoms.
Forty-five of the cases were on board a Luxor cruise while the rest were in other areas, she added.
She pointed out that compared to other countries in the region, Egypt still maintains a low number of coronavirus cases.
The Health Ministry conducted random checkups on guests and workers at Luxor hotels  and all samples came back negative, according to Zayed.
The minister stressed that people are responsible for protecting themselves and called on anyone with potential coronavirus symptoms immediately go to the hospital.