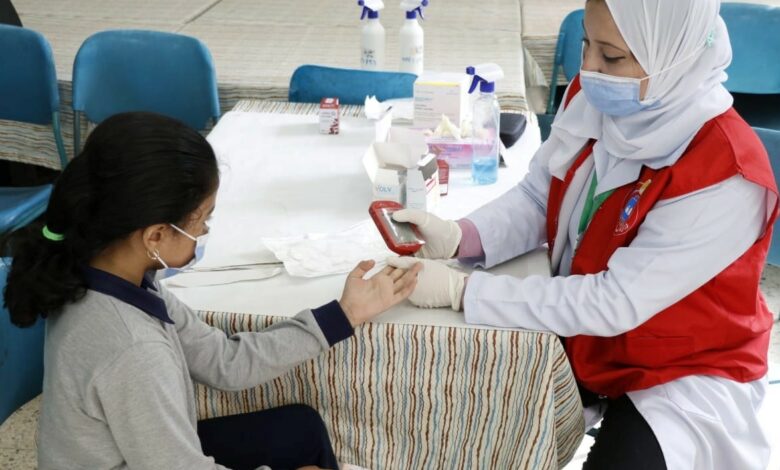 The Ministry of Health on Tuesday will start vaccinating children from 12 to 15 years old, in all vaccination centers nationwide for coronavirus, spokesperson for the Ministry of Health and Population Hossam Abdel Ghaffar announced.
Abdel Ghaffar added in exclusive statements to Al-Masry Al-Youm that children in this age group will be vaccinated with the Pfizer vaccine by registering on the ministry's vaccination website.
After registration, messages will be sent to the registerer's guardian phone number determining the time and date to receive the dose.
The guardian's approval is mandatory in order for children in the age group of 12 to 15 years old receive the vaccine, he added.
The cabinet announced the approval of vaccinating the 12-15 age group with the Pfizer vaccine against coronavirus after it had earlier approved the vaccination for the 15-18 age group.
On Monday, Egypt received through Cairo Airport a new shipment of 907,200 doses of the Johnson's vaccine.
The Unified Procurement Authority said that this shipment is coming to Egypt through the COVAX coalition led by the International Alliance for Vaccines and Vaccines (GAVI).
Meanwhile, Acting Minister of Health and Population, Khaled Abdel Ghaffar, said that the total number of doses that were imported from various approved types of vaccines amounted to about 88.2 million.
He added that 45.2 million doses had been provided to citizens, including 29.6 million as a first dose, and 15.6 million as a second dose.
On Saturday evening, Egypt received 3.9 million doses of the Pfizer vaccine, he said.
Abdel Ghaffar stressed the importance of efforts to negotiate with a number of global vaccine manufacturers, with the aim of producing these vaccines in Egypt, for local consumption as well as exports.
Edited translation from Al-Masry Al-Youm