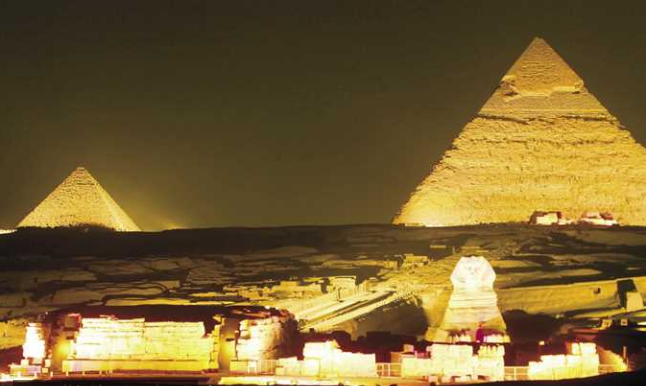 Lights will be turned off at a number of Egypt's main tourist attractions on Saturday for a duration of one hour as a part of the country's participation in the 11th annual Earth Hour event under the slogan "We pledge to preserve our planet," the Ministry of Environment said in a press release.
Starting 8:30 pm, lights will be shut off at the Pyramids, Sphinx, Cairo Tower, Bibliotheca Alexandrina, Qaitbay Castle and some ancient temples in Luxor, including Karnak, along with a number of large hotels.
For the tenth consecutive year, Egypt will mark the event to raise awareness about saving energy and the risks of carbon pollution and climate change.
Meanwhile, the Ministry of Electricity (MOE) called on Egyptians to rationalize their electricity consumption on Saturday as part of the country's participation in the event, urging people to turn off unnecessary electric lights and appliances from 8:30 pm to 9:30 pm.
A number of the MOE's distribution companies invited citizens to participate in the event and said that it would count the number of citizens who participate by determining the value of improvement in network loads during this hour.
Minister of Electricity Mohamed Shaker said that the sector has been relying on renewable energy for a long time, which has helped reduce the country's greenhouse gas emissions.
Starting in Sydney in 2007, Earth Hour is a worldwide event organized by the World Wide Fund for Nature (WWF). The event is held annually and aims to encourage individuals, communities, and businesses to turn off non-essential electric lights for one hour on a specific day at the end of March, as a symbol of commitment to the planet.  It includes more than 7,000 cities and towns across 187 countries.