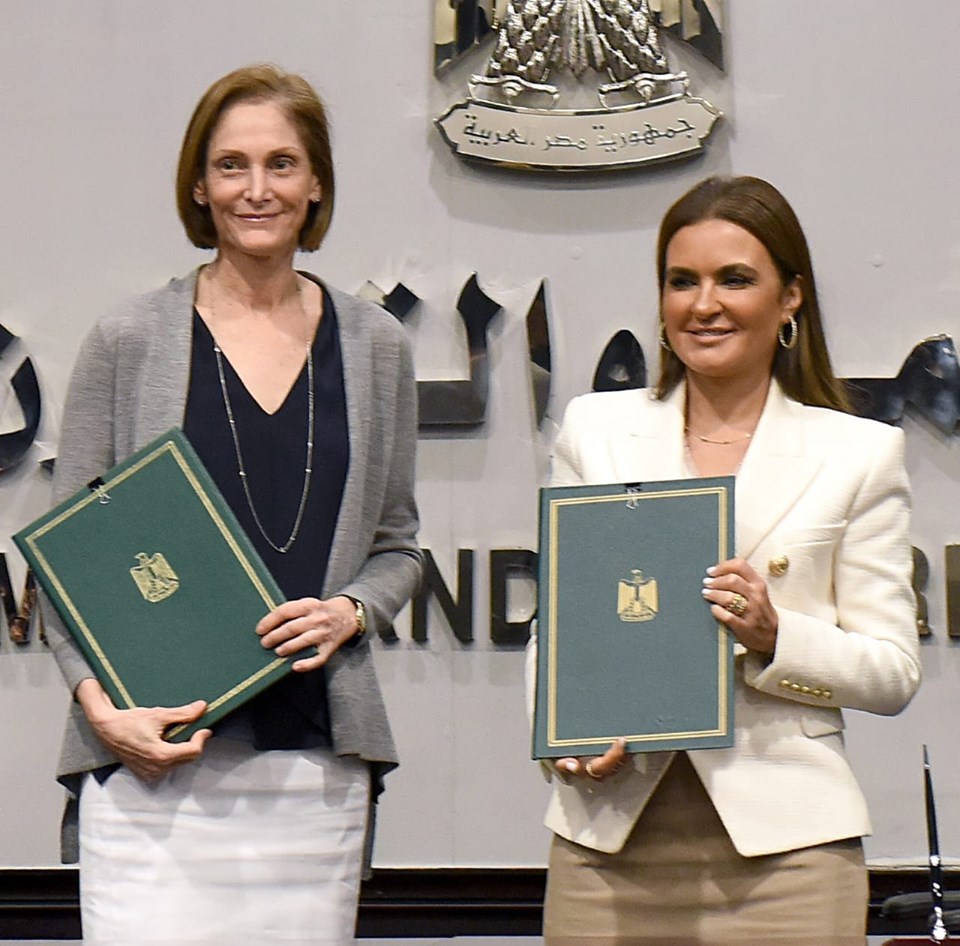 Egypt and the US on Sunday signed four grant agreements for cooperation in the fields of higher education, science, technology, health, trade and investment, worth about US$60 million.
Egyptian Minister of Investment and International Cooperation Sahar Nasr signed the agreements with the US Agency for International Development (USAID) Mission Director in Egypt, Sherry Carlin.
Nasr said in a statement that these agreements affirm the strategic and historical relationship between Egypt and the US, and economic cooperation between the two countries.
She added that the agreements come as part of a framework to support investment in the human element through grants directed to higher education, scientific research, health care, family planning, creating jobs for youth and training them on the labor market's needs.
These agreements will also help the Ministries of Higher Education and Health in implementing their programs, she pointed out. They will also help increase US investments to Egypt, in cooperation with the American Chamber of Commerce.
Nasr added that the USAID has been an economic partner of the Egyptian government for decades. The value of the USAID's contribution to Egypt totaled $30 billion, while the volume of American investments in Egypt reached about $22 billion by the end of December 2018.
For her part, Carlin said "These agreements in health, education, trade and investment and science and technology reflect our strong and enduring partnership with the Ministry of Investment and International Cooperation, and our continuing commitment to economic and social inclusion for the Egyptian people."
According to a US embassy statement, the health agreement builds on the USAID's longstanding support for Egypt's health priorities through the development agency's partnership with the Ministry of Health and Population.
Together, the focus will be on improving healthy behaviors, enhancing the quality of health services, and helping the Egyptian government guide policy and program design by supporting research, monitoring, and training in key areas such as voluntary family planning.
Through the higher education agreement, the US supports Egypt's priority in aligning the skills of graduates with market needs.
The USAID's work in this new agreement will also help increase the capacity of Egypt's higher education institutions to contribute solutions and solve Egypt's developmental challenges.
The trade and investment agreement facilitates the USAID's ongoing partnership with the Egyptian government in creating a business environment in which the private sector can grow and become more competitive.  This partnership is especially focused on promoting inclusiveness and sustainability for micro, small, and medium sized enterprises by focusing on small businesses that specifically provide jobs for youth and women.
Finally, the science and technology agreement maintains the US's commitment to joint research between US and Egyptian scientists.  USAID's work in this area addresses development challenges and promotes economic growth, with a focus on applied scientific research and technology commercialization.