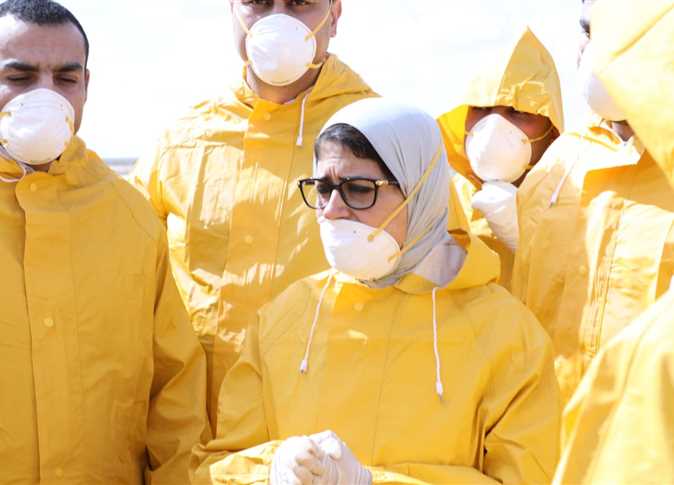 Health Minister Hala Zayed on Friday said that Egypt has yet to see its peak in coronavirus cases, owing to the precautionary measures the government took early on.
During a phone-in with TV host Amr Adib on his show al-Hekaya (The Story), Zayed said these measures were enacted since January. The contacts of infected cases have also been investigated, she added, helping to greatly reduce the disease's spread.
According to the available information regarding outbreaks in previous countries, Zayed explained that the outbreak typically peaks in the sixth or seventh week, with Saturday marking the beginning of Egypt's seventh week.
She also explained that 11 out of Egypt's 30 registered coronavirus deaths died before arriving at the isolation hospitals.
Half of the deceased were at private hospitals, she explained, either never making it to the isolation hospitals or arriving late.
As such 11 of the total deaths "died before the test results came up."
The minister also said that the coronavirus treatment protocol includes old medicines for malaria and other diseases and immunodeficiency (chloroquine or hydroxychloroquine).
She said that this protocol is being followed by different countries such as the US and France, and that Egypt has used these drugs since day one with good results.
The drugs should not be used without consulting specialists, she warned.
"These drugs must be obtained by patients in hospitals, and what happened is that numerous citizens bought these drugs from pharmacies in large quantities. Patients must be tested before using it, as their use may result in increased liver enzyme secretions."
Egypt's government imposed on Wednesday a two-week nationwide curfew from seven pm until six am and extended school closures an additional two weeks to fight the spread of coronavirus.
Shops are now closed from five pm until six am during the week, while all stores will be subjected to a complete shutdown on Fridays and Saturdays. All means of public and private transportation are suspended during curfew hours.
The closure decisions do not include bakeries, pharmacies, grocery stores or supermarkets outside shopping centers, and restaurants are limited to home delivery only.
Egypt's government initially shut down schools and universities on March 15 and has suspended flights from March 19 until March 31. And now it is extended for further two weeks.
Authorities suspended Friday prayers and congregational prayers in mosques nationwide on March 21 and churches were closed across the country as well.
Egypt announced on Friday 41 new coronavirus cases and six additional deaths, bringing the total number of cases confirmed so far in the country to 536.
Thirty people have died from the virus in Egypt, as well as two senior military officers.
There have been over 600,000 confirmed cases of coronavirus worldwide and upwards of 27,400 deaths.