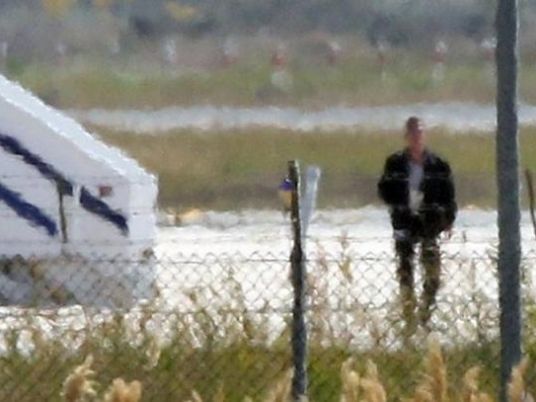 The alleged hijacker of an EgyptAir flight surrendered to authorities on Tuesday afternoon, according to reports from Cypriot TV, ending a tense hostage drama at Larnaca airport.
The Egyptian man was seen leaving the aircraft with his hands raised, according to state TV reports.
Shortly afterwards, sources at EgyptAir confirmed that the crisis was over and that all the remaining hostages had been released. The Cypriot Foreign Ministry sent a tweet saying: "It's over."
The drama started early on Tuesday morning, when a passenger hijacked the EgyptAir flight from Alexandria to Cairo, demanding that it be rerouted to Cyprus. The passenger claimed to be wearing an explosive vest, although authorities could not confirm whether this was true.
About 60 people, including seven crew, were onboard at the time of the hijacking, Egyptian and Cypriot officials said.
After the EgyptAir plane landed at Larnaca airport, the hijacker released all those onboard except the crew and a handful of passengers, identified as two Britons, one Italian and one Irishman. Later, some members of the crew were also seen leaving the aircraft.
By midday, Egyptian Aviation Minister Sherif Fathy stated at a news conference that only seven hostages remained onboard: three foreign passengers, a security guard, a female crew member, the pilot and the co-pilot.
Soon afterwards, more hostages started to leave the aircraft, as negotiations with the hijacker continued. Eventually, he emerged from the aircraft with his hands raised, signalling that the drama was finished.
The exact nature of the hijacker's demands was not clear to officials, although they described his motives as "personal" rather than "terrorist".
Cypriot President Nicos Anastasiades told reporters, "It is not something which has to do with terrorism."
Officials stated that the hijacker asked to see his ex-wife, who lives in Cyprus. Toward the end of the drama, the ex-wife arrived at the airport, apparently to help resolve the situation.
According to Reuters, Egyptian Prime Minister Sherif Ismail said that the man's demands were not clear.
"At some moments he asked to meet with a representative of the European Union and at other points he asked to go to another airport but there was nothing specific," said Ismail.