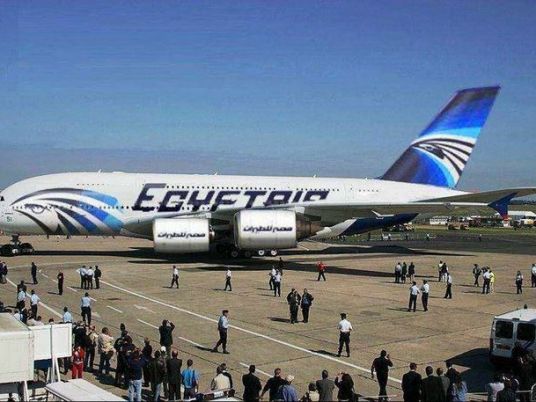 Airline EgyptAir resumed its normal flight schedule on Sunday after industrial action by pilots resulted in severe disruption to flights over the last four days.
Forty flights were cancelled or delayed when pilots from the Egyptian flag carrier airline went on strike to demand higher wages.
Sources from inside the airline reported, "After a concerted effort, the company directors, led by Civil Aviation Minister Safwat Muslim, have succeeded in negotiating with the striking pilots to resolve the crisis. Flight departures have picked up pace, and the company will be working hard throughout Sunday to see the timely departure and arrival of 120 domestic and international Egypt Air flights."
The sources continued: "Agreements have been reached with the pilots to raise their salaries by 40 percent, in an increase plan of two installments spread over the next two years. An initial raise of 22 percent will be implemented this coming July, followed by another raise of 18 percent in July 2017."
According to the same sources, the airline has agreed to raise the salaries and bonuses for all its staff, including those employed by associated companies, by 15 percent at the beginning of the new fiscal year.
The deal was decided by the airline's board of directors and general assembly in a meeting several weeks ago, said the sources.
"This is in alignment with our policy of equality and fair treatment for all workers," they said.
Pilots and other staff at EgyptAir have held industrial action several times in recent years, as the national carrier and the aviation industry in general continue to suffer due to political unrest, terrorism and a loss of tourism revenue.
In September 2012, EgyptAir cabin crew went on strike to demand better working conditions. Then in June 2013, EgyptAir pilots went on strike to demand pay raises and more benefits, causing some cancellations. In May of 2015, pilots threatened to resign over company rules that said pilots could fly for up to 14 hours per day, a rule that pilots said was illegal.
Edited translation from Al-Masry Al-Youm