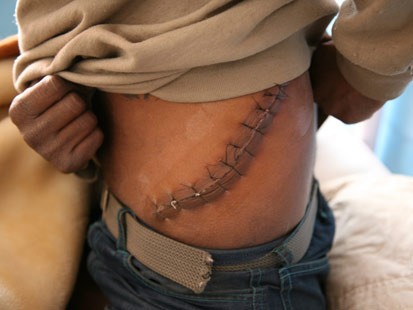 The Egypt National Security Agency said Tuesday it arrested a criminal ring in Giza specialized in illegal harvesting and transplanting of human organs, as well as human trafficking.
The ring included three doctors, four nurses, three hospital workers and two brokers. South Giza prosecution office has ordered four more suspects be arrested.
The suspects were arrested while preparing to harvest a kidney and part of a liver from one of their victims, with a plan to transplant it to a patient for $10,000.
Preliminary investigations into the incident found that the members of the ring convinced Egyptians to transplant some of their human organs to foreign patients in exchange for large sums of money, taking advantage of those in poor financial situations.
Security forces seized large amounts of money, made by members of the network, when the prosecution began their investigations.
South Giza prosecution office ordered the suspects be detained 15 days, pending investigations, on charges of illegal harvesting and transplanting organs, human trafficking and operating a medical facility without license.
This is the second largest criminal ring to be arrested for illegal organ trafficking since December, when the Administrative Control Authority busted a 41-member operation for trafficking.
The group included 20 doctors from teaching & government hospitals, ten nurses, nine brokers and two employees of the blood bank. The defendants were involved in 29 operations and were referred to trial.
Earlier this month, German-based ProSieben aired a short investigative documentary by German journalist, Thilo Mischke, on his show 'Uncovered,' featuring Egypt as a hot spot for illegal organ trafficking.
Egypt Health Ministry questioned the credibility of the documentary, saying it "harms Egyptian medical tourism, as part of a systematic campaign to harm the country's national security." It further asserted that the footage taken from outside ministry hospitals does not prove that organ trafficking occurs inside.
Edited Translation from Al-Masry Al-Youm