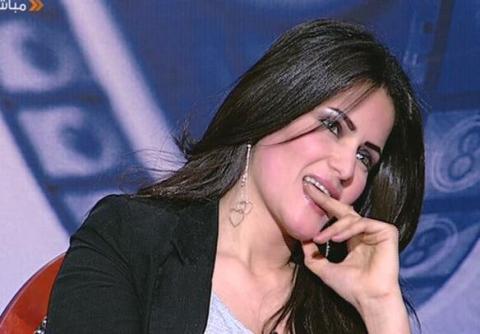 The official Facebook page of Egyptian belly dancer Sama El-Masry's has denied that she had intended to run in Egypt's upcoming presidential poll, following rumors spread on social media for the past two days.
A Twitter page claiming to represent El-Masry had announced her intention to run for president. The dancer's Facebook page responded, saying, "Sama El-Masry has no Twitter account and her intention to run for the presidency is just a rumor and a silly tweet from this account. Sama El-Masry will remain with the fans."
The post puts an end to a social media storm that broke out in response to a post published on El-Masry's alleged Twitter account, which read, "The great Egyptian people: I, Sama El-Masry, announce my intention to run for the presidency and will be announcing my program soon. May god bless Egypt, its people, army and police."
The tweet had gathered 1183 likes and 429 retweets and 663 comments.
El-Masry is a belly dancer and actress who made her name doing commercial movies such as "Ala Wahda W nos" which addressed the exploitation of female media workers, causing controversy in 2011. She has also starred and danced opposite singer Mahmoud El-Lithy.
El-Masry also gained criticism for her Youtube videos where she criticized the Muslim Brotherhood. In her fourth video she appeared in a headscarf, causing outrage. She also produced a video where she made fun of former US President Barack Obama in 2013, for which she gained notoriety.
El-Masry has also been politically active. There have specifically been four well-known political stances that the belly dancer has taken, according to Al-Dostour newspaper. The first was when she attacked the MB in her clips. There was also the time when she addressed former Prime Minister Ahmed Shafiq for announcing his intentions to run for the presidency.
The third one was when El-Masry was kicked out from former President Gamal Abdel Nasser's cemetery. She said, "I was just passing by to find a crowd. I've been told it was the July revolution's anniversary. So I went to it to read "Al-Fatiha" [first verse of the Quran] for the leader." The final controversy she has been involved in was when she once said she was "not a belly dancer" and would like to be part of the nation's political life one day.
There are currently two official candidates having announced that they intend to run for presidential office in the elections scheduled for March 26-28; parliament member and Zamalek Sports Club head Mortada Mansour and journalist Khaled Ali. While the political party of retired Lieutenant General Sami Annan has announced he will be running, he himself has not yet made an announcement.
Although President Abdel Fattah al-Sisi has not yet declared that he will run for a second term in office, he is widely expected to do so within the coming period.