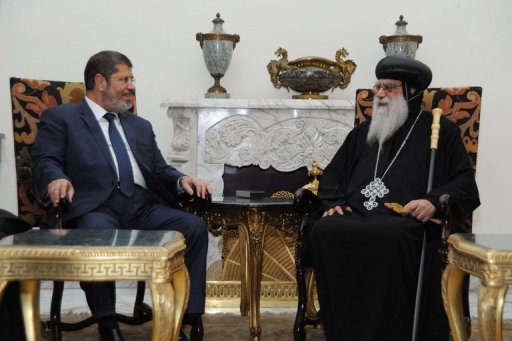 Acting Coptic Orthodox Pope Bishop Pachomius announced Saturday that the Egyptian churches were officially withdrawing their three members from the Constituent Assembly.
Speaking at a press conference, Pachomius said that "the Egyptian churches [have] sensed discomfort at the trends that prevailed [while] drafting the constitutional provisions. The constitution … in its current form does not meet the desired national consensus and does not reflect the pluralistic identity of Egypt, [which has been] entrenched across generations."
Pachomius added that the constitution in its current drafted form contradicts Egypt's heritage and violates the rights and freedoms that Muslims and Christians have both fought for through the ages.
With its decision, the Coptic Orthodox Church and other Egyptian churches join other secular and liberal forces who have suspended their participation in the assembly or withdrawn their members in protest of efforts by Islamist members to draft an "Islamic" constitution.
Such groups have also protested granting extended powers to the executive authority in the constitution. The assembly is trying to put the document up for a popular referendum before 2 December, when the Supreme Constitutional Court is set to consider the constitutionality of the law that created the assembly.
Egyptian churches were represented in the Constituent Assembly by Bishop Paula of Tanta for the Coptic Orthodox Church, Bishop Yohana Qalta, Assistant to Catholic Patriarch in Egypt, and Safwat al-Bayadi, head of the Anglican Communion in Egypt.
Pachomius added that "members representing our churches participated with the spirit of love, openness and patriotism in the assembly's work, but the outcome came contrary to what we expected of a national consensus."
"To preserve the Egyptian identity," Pachomius said, "we withdraw from the Constituent Assembly."