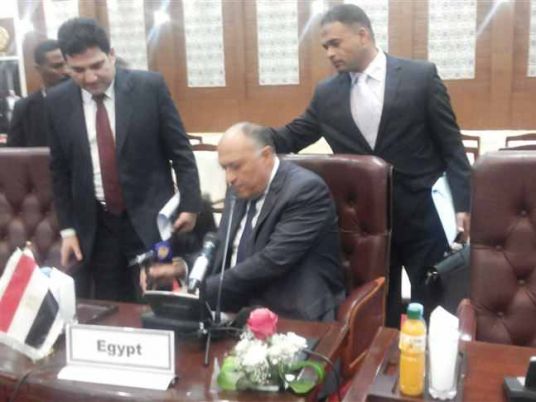 Egyptian Minister of Foreign Affairs, Sameh Shokri, is set to meet today with Representative of the European Union for Foreign Affairs, Federica Mogherini, in a two-day visit to Brussels, according to a statement by the European Union.
The primary discussion topics between the foreign ministers will include the situation in Syria and Libya, crisis developments with Qatar and their alleged financial support of terrorism, said official spokesperson of Foreign Ministry Ahmed Abu Zaid.
Abu Zaid added that the Egyptian-European Association Council will hold a meeting tomorrow to discuss the Egyptian-EU bilateral relations.
According to informed sources, Mogherini will inform Shokri of the results of her visit to Kuwait yesterday, to support the efforts of Sheikh Sabah el-Ahmad el-Jaber el-Sabah, the ruler of Kuwait, concerning the Qatari crisis.
Meanwhile, Turkish President Recep Tayyip Erdogan kicked off his visit to the gulf countries to act as a mediator for solving the crisis between the four boycotting countries and Qatar. Erdogan affirmed that Saudi Arabia has taken over the responsibility of solving the Qatari crisis, saying, "Prolonging the crisis does not come in interest of any country."
Erdogan is set to visit Kuwait and Qatar, following yesterday's meeting with Saudi King Salman bin Abd el-Aziz in Jeddah.
The Islamic world severely needs cooperation and solidarity, not new divisions, Erdogan said in a press conference in Istanbul.
He added that the relationship with Qatar has developed within the latest years, crowned by the foundation of the Higher Committee for Cooperation. "I intend to discuss the gulf crisis and Syrian file with Emir of Qatar," Erdogan said.
Edited Translation from Al-Masry Al-Youm