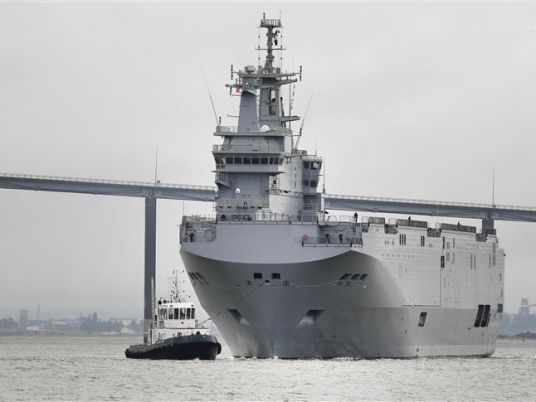 A joint marine exercise between Egyptian and French naval forces' units dubbed 'Cleopatra-2017' commenced on Monday, and will span several days in Egypt's territorial waters, confirming strategic and military partnership between Egypt and France.
Together with Egypt's multi-tasking F-16 aircrafts, several naval units including a French Mistral-Class helicopter carrier, frigates, rocket launchers and anti-submarine aircrafts are featured in the training.
The training focuses on inspection of suspicious ships, traffic signal exercises, helicopter landing and take-off procedures from naval unit surfaces, securing naval units with defense weapons, and implementation of marine landing for personnel and equipment in Mistral-class aircrafts.
Meanwhile, Lieutenant General Mahmoud Hijazi, the Egyptian Armed Forces' Chief of Staff, met with the Somali Army's commander-in-chief, Major General Ahmad Muhammad Jamaeli and his accompanying delegation yesterday.
They discussed several issues of mutual concern, including boosting military and security cooperation in various fields. The meeting also discussed developments on the local and regional arena and their implications on the region's security and stability.
During the meeting, Lieutenant Genera Hegazi stressed that historic ties between the Egyptian and Somali people are deeply rooted, especially regarding the countries' armed forces.
Edited translation from Al-Masry Al-Youm