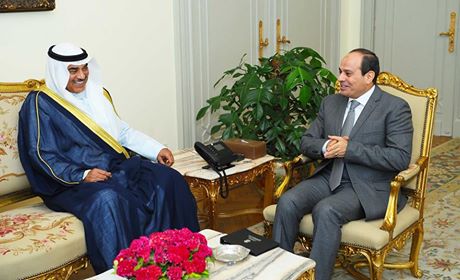 President Abd el Fattah el Sisi received the Kuwaiti first deputy Prime Minster and Minster of Foreign Affairs Sabah el Khalid el Hamad el Sabah yesterday in Itihadiya Palace. The meeting was attended by the Egyptian Minster of Foreign Affairs Sameh Shokri and the Ambassador of Kuwait to Egypt Mohammed el Thuwaikh.
The official presidency spokesperson Ambassador Alaa Youssef stated that President el Sisi tackled the latest developments of some regional issues, including the crisis in Qatar, stressing the importance of countering policies that support terrorism. President el Sisi also urged the confrontation of attempts to destabilize the Arab countries and abuse their people.
He clarified that the fundamentals of Egypt's foreign policy are based on several principles, including non-interference in the domestic affairs of foreign countries and the preservation of Arab national security. Egypt, in turn, does not allow any country to interfere in its affairs, Youssef pointed out in a statement.
Sameh Shokry, minister of Foreign Affairs, affirmed during his meeting with his Kuwaiti counterpart that Egypt is stuck continuing the work with the heap of measures taken against Qatar and the list of demands delivered to it, said Counselor Ahmed Abu Zaid, official spokesperson of the Ministry of Foreign Affairs, in a statement. Qatar still approaches 'temporization' policy with the boycotting countries, ignoring the four countries' real concerns and the desire of the region's people to decisively counter terrorism and extremism, Shokry added.
Similarly, the UAE stressed its stance against Qatar as the State Minister of Foreign Affairs, Anwar Qerqash, called on a regional solution under international monitoring to ensure the end of financing to extremist organizations, provided by Qatar. "Qatar Central Bank financed terrorist operations," asserted Qerqash, adding "It spends billions of dollars to destabilise the region and pays ransom money to release terrorists."
In a speech at the UK based Chatham House Institute, Qerqash denied news about any requests, from the six Arab countries, for FIFA to withdraw Qatar as a host for 2022 World Cup.  He also denied the US newspaper Washington Post's report that quoted CIA officials saying the UAE planned to hack into the Qatar News Agency's web site to publish statements attributed to Emir of Qatar Tamim ben Hamad, describing Iran an 'Islamic power' and hailing 'Hamas' movement. The "report is false," Qerqash affirmed
Additionally, the Saudi ministerial cabinet stressed the necessary outcomes provided in the statement released by the boycotting countries in Cairo, in which they emphasized adherence to the current measures.
Edited Translation from Al-Masry Al-Youm