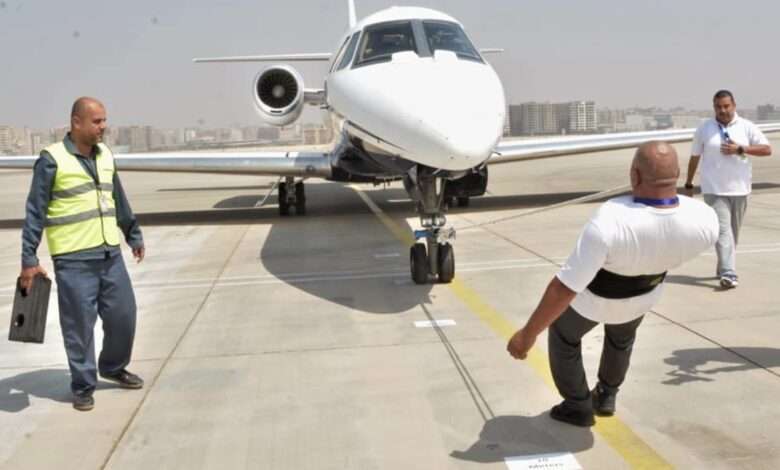 The Egyptian Minister of Civil Aviation Mohamed Manar and Minister of Youth and Sports Ashraf Sobhy attended, at Cairo International Airport, on Monday, an event where Egyptian Mahmoud Abdel Hamid Nour Eddin attempted to pull a Cessna passenger plane, belonging to the Smart Aviation Company, a Civil Aviation Ministry's company, with his teeth in order to enter the Guinness World Records.
Abdel Hamid, known as "Mahmoud Lala", was able to tow the plane, which weighs 14 tons and 175 kilograms, and move it using a rope placed between his jaws. He pulled the plane for a distance of about 6.2 meters.
The Guinness World Records has been addressed to record the name of Abdel Hamid as the owner of the strongest jaw in the world, breaking the previous record number.
Sobhy expressed his happiness with the success of the Egyptian hero in his initial attempt to set a new Guinness record, an achievement added to the record of Egyptian achievements in sports.
Sobhy added that this adventure is the first of its kind to be implemented inside Cairo Airport.
Sobhy affirmed his keenness to support Egyptian youth, and to provide all they needed to record many achievements in international, continental and regional sports forums.
Manar affirmed the support of the Ministry of Civil Aviation to successful Egyptian models in various fields, including the sports field, and its quest to provide all aspects of facilities to support them.
He also praised the permanent cooperation and fruitful coordination between the Ministries of Civil Aviation and Youth and Sports to support such initiatives that highlight distinguished Egyptian talents.
Abdel Hamid thanked the ministers for their great support by providing all necessary preparations for him to achieve the new record.