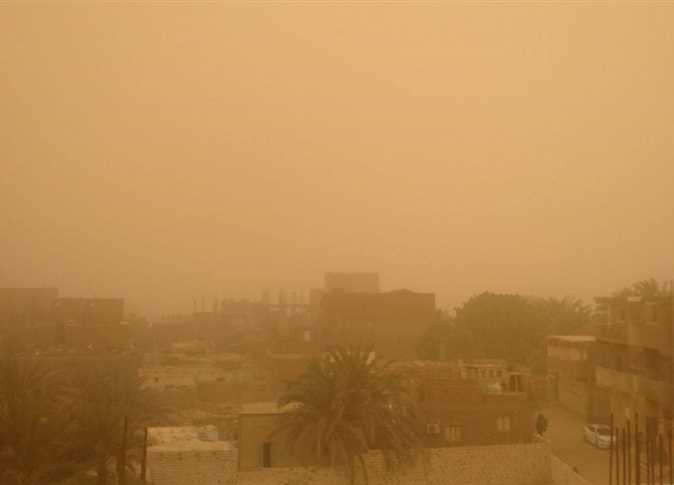 The Egyptian Meteorological Authority (EMA) on Sunday cautioned patients with respiratory and chest diseases to avoid direct exposure to the sand and dust storms occurring in several parts of the country today.
Head of the EMA's Analysis and Forecast Center, Mahmoud Shahin, said on Sunday that this wave of dust and wind — part of a seasonal phenomenon locally known as "khamsin" — will have passed by the end of Sunday, and that visibility will improve in the coming hours.
Shahin also said that this evening will see a decrease in temperature due to a change in air mass, which will mark the beginning of several days of more stable weather conditions.
During the past few days, he explained, Egypt was exposed to southwestern winds that caused the wave of warm weather the country has been experiencing.
Shahin expects temperatures to gradually return to levels that are more normal for this time of year.
There will be calm winds and mist at dawn on Monday, but this will not impact visibility on roads.
Egypt on Sunday experienced strong winds blowing up sand and dust on various parts of the northwestern coast, in South Sinai, in the Red Sea mountains, and in Greater Cairo.
The weather is expected to be mild during the daytime across most parts of the country.
However, temperatures are expected to be higher in South Sinai, the Red Sea mountains and northern Upper Egypt, and will be even higher in southern Upper Egypt.
Temperatures predicted for the following cities are: 23C in Alexandria, 24C in Cairo, 38C in Qena, 39C in Luxor and Aswan.
Waves in the Mediterranean Sea will be moderate to rough, ranging between two and 2.5 meters in height, while waves in the Red Sea will be moderate, ranging between 1.5 and two meters in height.
Northwestern surface winds are expected on both seas.
Temperatures at night are expected to be cold on the northern coast and in central Sinai, and mild in all other parts of the country. Light rainfall is expected on the northeastern coast.
Edited translation from Al-Masry Al-Youm