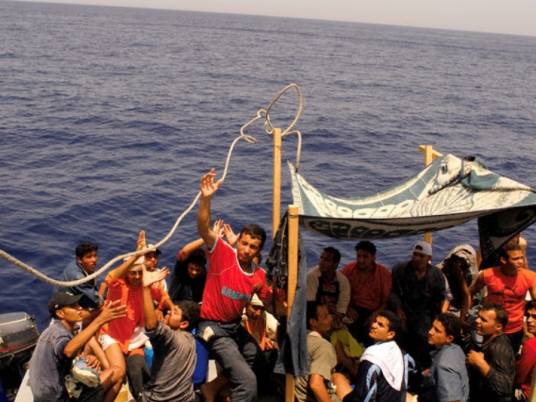 The Director General of the General Department for Planning and Follow-up of Illegal Immigration at the Ministry of Immigration and Egyptians Abroad Affairs Wael Farraj warned that only three percent of people that illegally immigrate through the sea survive the trip.
Farraj warned that illegal immigration brokers deceive young people, and fail to show them the dark side of the journey.
During an interview with the Sada al-Balad satellite channel, Wael Farraj added that even in the slim chance of survival, entering a country illegally means no residence or work permit.
People remain unaware of the dangers behind illegal immigration, he said, and assured that the government is comprehensively working to fight the issue such as through a plan across all governorates to spread awareness.
He explained that these campaigns include presenting positive alternatives, namely traveling in a positive and safe way or through soft loans.
Egypt has been working with the EU on battling illegal immigration.
In 2017, President Abdel Fattah Al-Sisi met with EU Commissioner for Migration, Home Affairs, and Citizenship Dimitris Avramopoulos to work on ways to enhance cooperation between them in battling illegal immigration.
The International Organization for Migration (IOM) said in 2020 that the rate of illegal immigration from Egypt to Europe has decreased to almost zero, thanks to effective measures taken by the Egyptian government.
Recent incidents showed that Egyptians travel to the neighboring Libya, then illegally to Europe.
On Friday, a boat illegally carrying over 70 people capsized off the Mediterranean Sea. The disaster left 11 Egyptians dead, with many more missing.
The boat had sat sail from Libya.
For nearly a decade, war-torn Libya has been the main transit point for migrants fleeing war and poverty in Africa and the Middle East and looking to settle in Europe. Smugglers often crowd desperate families into poorly-equipped inflatable boats that break down and stumble along the perilous road in the middle of the Mediterranean Sea.
In recent years, the European Union has partnered with the Libyan Coast Guard and other local groups to stop dangerous sea crossings.
But rights groups say these policies leave migrants at the mercy of armed groups, taking a dangerous journey at sea, or being held in filthy, abuse-ridden detention centers.