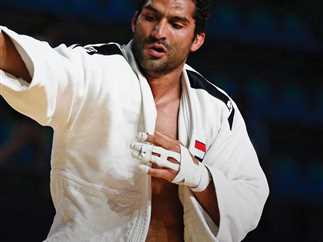 Egyptian judoka Ramadan Darwish and the winner of the Montreal Grand Prix gold medal in Canada recounted on Sunday his beginnings and the challenges he faced throughout his journey.
"We are four siblings. Our mother chose the sport [judo] for us when we were young," Darwish said.
Darwish was born to a family charmed by judo.
Darwish overcame various obstacles to become one of the most important athletes on the national judo team after he succeeded in attaining many titles and medals, including the title at the World Judo Championship when he was 20 year old and the gold medal for 100 kg at Canada's Montreal Grand Prix championship held between July 5 and 7.
In 2017, Darwish appeared on television as one of Egypt's judo champions. The international champion, ranked seventh globally, complained about the "lack of interest" of Egyptian officials in judo. He complained that the Egyptian Judo, Aikido and Sumo Federation used to turn down requests he made to take part in international competitions.
"I'm spending on [my judo practice money I get from] tournaments," he said, adding that he does not get any monthly salary from the federation.
Despite the unpopularity of judo in Egypt, Darwish did not give up hope. He won a gold medal at the Mediterranean Games organized by Spain in 2018, an achievement not reached by any Egyptian judoka before him.
In December 2018, Darwish was attacked by Israeli Channel 2 TV, which claimed that he mixed sports with politics when he refused to shake hands with the president of the Israeli judo federation.
In July 2019, Darwish won the gold medal upon beating Canadian judoka Shadi al-Nahas, a victory that will improve his international ranking and qualify him for the Tokyo 2020 Olympics.
Darwish qualified for the final after winning the semi-final against Brazilian Leonardo Goncalves. The Egyptian champion won all of his matches in the first set against the athletes from Canada and the United States.
Darwish dreams of winning a medal at the 2020 Olympics, scheduled to be held in Tokyo.
Edited translation from Al-Masry Al-Youm