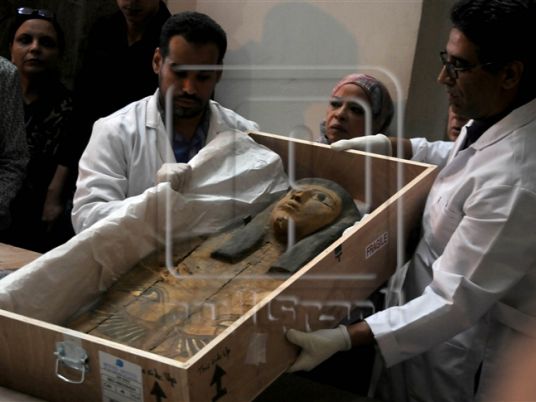 The Egyptian Museum launched the Coffin Conservation Project on Tuesday, in cooperation with the US embassy in Cairo, to document and restore 600 wooden coffins over the course of the next two years.
The museum won a grant from the Ambassadors Fund for Cultural Preservation (AFCP) in 2015 after an international competition to choose the winning project, the General Director of the Egyptian Museum Sabah Abdel Razek said at a press conference on Tuesday.
Abdel Razek added that the coffins were recovered from several places including Akhmim, Saqqara and Luxor, and some of them date back to the 21st dynasty (BC 1070-664).
Mo'men Othman, the Director of the Restoration Department at the museum, said out of the 600 coffins to be restored, 180 are currently being showcased on the third floor of the museum, while the rest are stored in the basement.
The project will cost $130,000 and is the largest endeavor to conserve coffins in the world, Othman added.