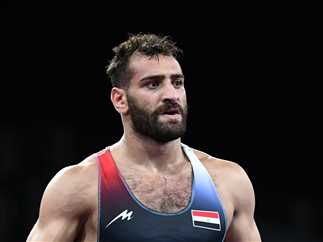 Egyptian Olympic wrestling team player Mohamed Metwally defeated his Cuban opponent 4-0 in the quarter-finals of the Tokyo Olympic Games, and qualifies for the semi-finals in the Men's Greco-Roman 87kg category.
Metwally previously defeated Belarusian Kiryl Maskevich 9-1 in round of 16 and qualified for the quarter-finals in the 87 kg category.
On Monday, Egyptian diver Mohab Mohymen qualified for the semi-finals of the 3-meter dive at the Tokyo Olympics.
Mohymen scored 422.75 points in six attempts against 17 other players. He finished 12th, which qualifies him to move on to the next round.
In his first attempt, the diver scored 77.50 points. He scored 66.30 points in the second attempt, 79.20 points in the third attempt, 54.25 points in the fourth attempt, 69.00 points in the fifth attempt, and 76.50 points in the sixth attempt.
Mohymen had qualified for the Tokyo Olympics after winning the gold medal in the African Olympic qualifiers for the 3-meter springboard dive.
The Egyptian champion began diving at the age of nine at Zamalek Club. He has participated in many tournaments and was the silver medalist of the Youth Olympics in 2014 in the joint doubles competitions.
Mohymen also participated in the 2016 Olympics in Rio de Janeiro, where he ranked 28th and last with a total of 305.5 points.
In this year's games, Egypt has so far won two bronze medals through Taekwondo stars Hedaya Wahba and Saif Eissa.
Egypt's delegation in Tokyo is the largest it has ever been in history, with 137 athletes competing in 23 different sports.