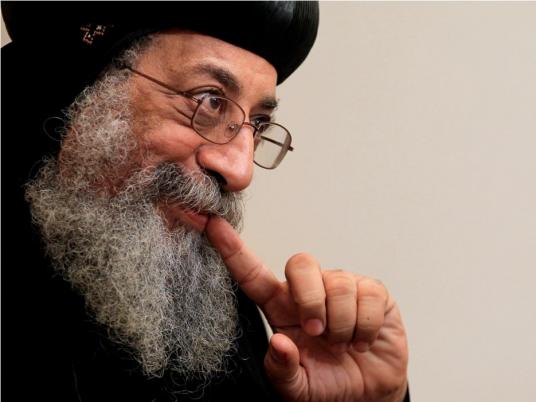 An Egyptian bishop has told the BBC that the head of the Coptic Orthodox Church, Pope Tawadros II, has decided to cancel official activities this week in Cairo, fearing attacks.
Bishop Angaelous said "Tawadros has cancelled some public events at St Mark's Cathedral in Cairo because of the worsening security situation." He added that Pope Tawadros is concerned about "the risk of potential attacks on the Coptic congregation."
The Coptic minority accounts for an estimated 10 percent of the mainly Muslim population in Egypt. Copts have for years complained of marginalization and the failure of security forces to protect them, escpecially as attacks on churches and sectarian violence has increased in the aftermath of the 25 January and 30 June uprisings.
An analysis of the situation in Egypt shows that some extremist Islamist groups believe that the church supported the overthrow of Morsy in early July. Tawadros was among the religious and political leaders who issued the roadmap for a post-Morsy Egypt under the auspices of the Armed Forces.
The bishop's statement comes after incidents of violence against Copts in Minya and Assiyut, where at least one person was killed and 17 were injured, as well as in Sinai, where a man was recently kidnapped and beheaded.
Human rights organizations have called for extremist groups to put an end to violence against Copts, while at the same time accusing state institutions of being negligent with regards to providing the "necessary protection for Christian citizens." According to Copts, the state has failed to decisively confront sectarian attacks under both Mubarak and Morsy.
Sixteen organizations signed a statement released on Wednesday denouncing the violence and "the continuing pattern of impunity." Among those who signed the document was the Egyptian Initiative for Personal Rights and the Arab Network for Human Rights Information.