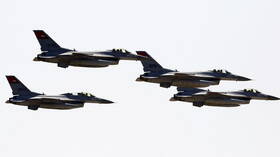 The Commander of the Egyptian Air Force, Mohamed Abbas Helmy, announced that  forces are able to reach the "greatest extent in the shortest time to secure Egyptian interests, under all challenges."
"A comprehensive plan has been drawn up according to a strategic vision for the development and modernization of the armed forces, so as to possess the weapons that enable us to face the challenges, after Egypt, the region and the world witnessed in 2011 a change in the nature of threats and challenges with the emergence of enormous new hotbeds of conflict in many areas," Helmy said in a speech he delivered on the occasion of the "Eagles of Egypt Day".
"In these difficult circumstances at home and abroad, the Egyptian army emerged victorious for its people. The Egyptian people succeeded in restoring their identity in 2013. With a keen vision and a balanced and continuous estimation of these threats, the political leadership issued directives to develop the capabilities of the armed forces, including the Air Force."

The political leaders emphasize the strategic importance of diversifying the sources of armament, to be able to face these challenges and threats with the necessary efficiency, he added.
Modernized models of aircraft and helicopters have been supplied to Egypt, he said, all equipped with the latest technology in the aviation industry.
"The Air Force is carrying out its tasks with the highest efficiency on all strategic directions to confront and defeat all forms of terrorism and enforce the law in North Sinai," he assured.

Helmy said that the Air Force continuously monitors the western borders to confront infiltration and smuggling attempts.