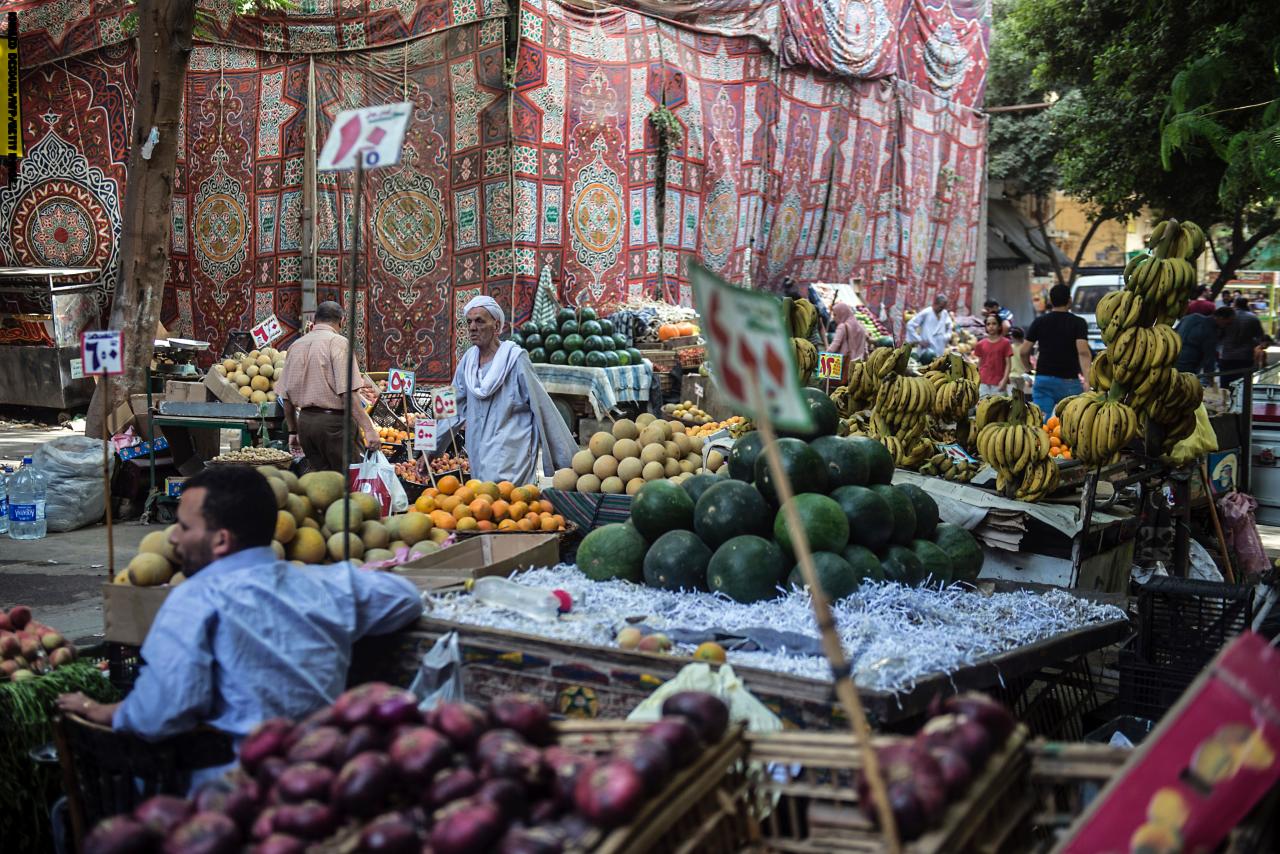 Egypt's annual inflation rate fell to 6.8 percent in January 2020, compared to 12.2 percent in January 2019, according to a statement by the Central Agency for Public Mobilization and Statistics (CAPMAS) released in February.
The CAPMAS statement writes that the monthly inflation rate rose by 0.8 percent influenced by the increasing price of meat and poultry by 5.3 percent, vegetables by five percent, and drinks such as mineral water, soda water and juices by 0.6 percent.
The health care sector's prices rose by 0.5 percent, while the restaurants and hotels sector and the commodities and various services sector increased by 0.3 percent.
Fruit prices fell by -1.8 percent, with other food products down by -0.2 percent.
Prices for food and beverages increased by 2.1 percent owing to the rising prices of tomato by 21.3 percent, eggplant by 19.2 percent, chicken by 11.7 percent, seafood by 4.5 percent and duck by 2.6 percent.
Meanwhile, mandarin orange prices fell by 14.7 percent, banana by 5.6 percent, spices by 0.7 percent and vinegar by -0.5 percent.
Egypt's annual inflation rate hit 2.7 percent in November 2019, up from 2.4 percent in October, and compared to 15.6 percent in November 2018.
Egypt's inflation rate stood at 11.7 percent between January to July 2019, according to a CAPMAS report in September 2019, which attributed the increase in inflation to rising fuel prices in July and a 0.5 percent increase in prices of foodstuffs between June and July.
Egypt floated its currency in November 2016, and the Egyptian pound has been reduced in value by about half since then. The move was key in helping Egypt clinch a three-year US$12 billion International Monetary Fund lending program tied to ambitious austerity reforms such as tax hikes and subsidy cuts.
Edited translation from Al-Masry Al-Youm