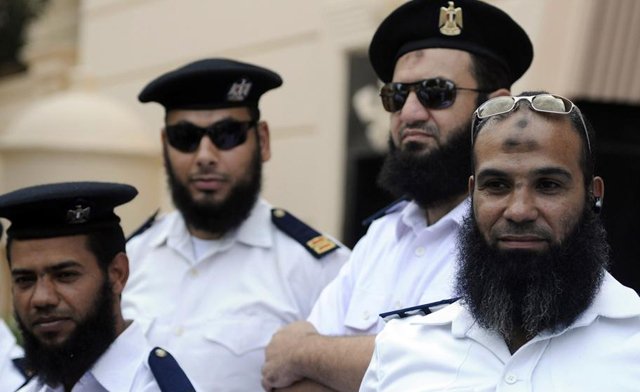 An Urgent Matter Court in Egypt has overturned a ruling allowing bearded policemen to return to the force, a judicial source told AFP on Thursday.
The ruling, issued on Wednesday, came following a lawyer's appeal against an earlier ruling allowing bearded officers to return to work which was issued in July.
Back in July, the verdict overruled a previous decree issued from Egypt's Ministry of Interior, which states that officers are to be fired if they keep their beards.
The issue started when a police officer was relieved from his job in 2013 for having a beard, which caused him to go to the Administrative Court to defend his right to return to work, reasoning that his presence in the police service represented no threat.
The issue escalated further when the ministry appealed to the Higher Administrative Court following the Administrative Court's decision in favor of the officer.
The Higher Administrative overturned the Interior Ministry's appeals against the return of bearded officer to his job.
After the verdict another officer, Mohammed Abdel Ghafour al-Batanoni, went to court demanding to return to his job following an earlier ruling to relieve him.  However, Egypt's Higher Administrative Court has upheld the old verdict to relieve the officer of his position for refusing to shave his beard despite earlier warnings by his superiors in the ministry, reported Al-Masry Al-Youm.
The court based its decision on a section from rulebook 3, issued in 2012, which states that the ministry requires its employees to have "short hair and a shaved beard".
The court added that police officers should always be reminded of such rules and abide by the specified look, in order to "gain the people's trust" – as a police officer's job, unlike most others, requires the complete trust of those around them.
The court verdict went on to reference Law 109 of 1971, which states that the police is a "secular, organizational entity whose members must completely abide by all of its rules," including uniforms, appearance and general manner, whether on or off duty.
The verdict noted the distinction between personal freedom, the need to abide by laws, and religious verdicts with no consensus between scholars.
While laws must not contradict religious rules with wide consensus, it argued, Islamic rulings that only a portion of Muslims believe (and cause a difference of opinion) do not count.
The verdict went on to address the constitution's second article, stating that "Islam is the country's religion, Arabic is its official language, and Islamic laws are the main source of legislation." To the court, this implied that verdicts could not clash with basic Islamic rulings that were proven beyond doubt.
However, it held that rulings determined by individual research and without "strong evidence" could not be taken as literal in court, as they may be twisted to serve unique interests "in different times and places".
The court noted that the issue of beards in Islam has a long history of controversy, with scholars unable to agree whether a beard should be kept long, shortened or completely shaved.
It therefore affirmed that every Muslim should follow the verdict they believes in most, but that legislators also had the right to issue whatever rules they saw fit in the case of non-consensus between religious scholars.
Holding people in certain organizations to a certain dress and appearance code "works well for the greater good, so long as it does not defy Islam's main rules", the verdict concluded.
In 2012, the Ministry of Interior referred Lieutenant colonel Mohammed Abdel Ghafour al-Batanoni to reserve for growing out his beard. Batanoni appealed the decision in court, citing his peer's testaments that he was a "hardworking policeman". He denounced the decision as unfair and confusing, as he believed growing a beard was encouraged by Islam.
The police responded by terminating Batanoni's employment, and referring him to early complete retirement.
Deeming the move unconstitutional, and noting the lack of any disciplinary trial before the police's decision, Batanoni then returned to court. He claimed that what happened demonstrated "corruption" in the Ministry of Interior, as it could issue any decision with no regard to the law. He called on the court to cancel the decision, "as it has similar decisions in the past".
The court then agreed to the appeal, noting that a police officer could not be referred to early retirement except under severe circumstances, where the officer had committed a large professional mistake – dangerous enough to merit expulsion from their role without a disciplinary trial. Therefore, the court nullified the decision.
Yet finally, the police appealed the decision again leading to the above verdict and Batanoni's permanent loss of his position.
The case dates back to 2012 when bearded police demonstrated under Islamist president Mohamed Morsi, demanding the officers be allowed to serve. After Morsi's ousting in 2014, the interior ministry dismissed 10 policemen because of their beards.
In July, police regulations were again called into question and bearded officers were officially allowed to return to their beats.
A lawyer immediately filed an appeal stating that "fears these police officers are Islamists".