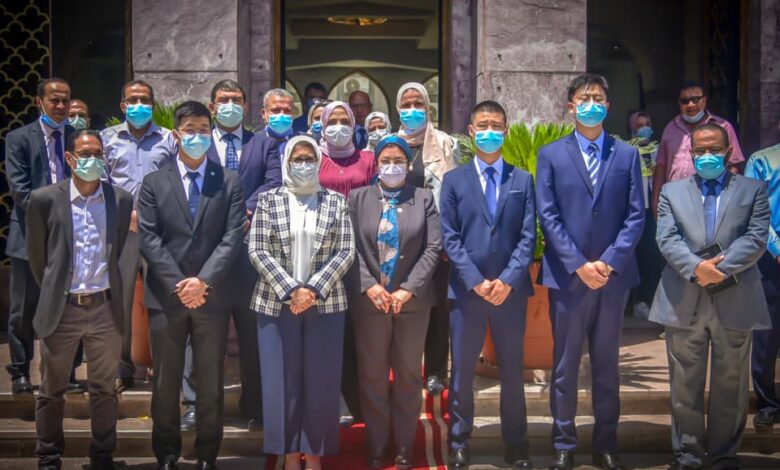 Egypt's Health and Population Minister Hala Zayed held a meeting on Saturday at the headquarters of the Holding Company for Biological Products and Vaccines (VACSERA) with a delegation of Chinese experts from Sinovac company in preparation for starting local production of the vaccine in Egypt.
Egypt received the first batch of raw materials to manufacture its own vaccines on Friday. Included in the shipment was an additional 500,000 doses of the Sinopharm vaccine, which Egypt has been using since the beginning of its vaccination campaign.
Zayed said on Saturday that the delegation will continue working for up to three weeks until the completion of the production of the first batch of Sinovac vaccine, which is estimated at two million doses.
She explained that the process of producing vaccines goes through several stages, beginning with conducting raw material analysis tests in the Egyptian Drug Authority's laboratories, then the packaging, approval, and stability studies.
These doses will be subjected to analysis in the Egyptian Drug Authority's laboratories to ensure their safety and efficacy upon the completion of manufacturing.
Egypt launched its vaccination campaign on January 24.
The Health Ministry is currently working to vaccinate medical staff first, and has opened registration for Egyptians and non-Egyptian adults on its website.
The ministry announced in mid-May that 1.3 million people had received at least a first dose of the vaccine.
Ministry workers have visited public markets, public transportation, places of worship, salons, cafes, shops, gathering spaces, and villages to educate the public on the vaccine and encourage them to sign up for the jab.
On Thursday, Egyptian Prime Minister Mostafa Madbouly said that the government will administer more than five million doses of the coronavirus vaccine in June.
Madbouly's statement was made during his inspection the main vaccination center in Nasr City, Cairo. The prime minster added that the vaccine's efficacy against the virus has been affirmed through scientific studies and by the World Health Organization (WHO).