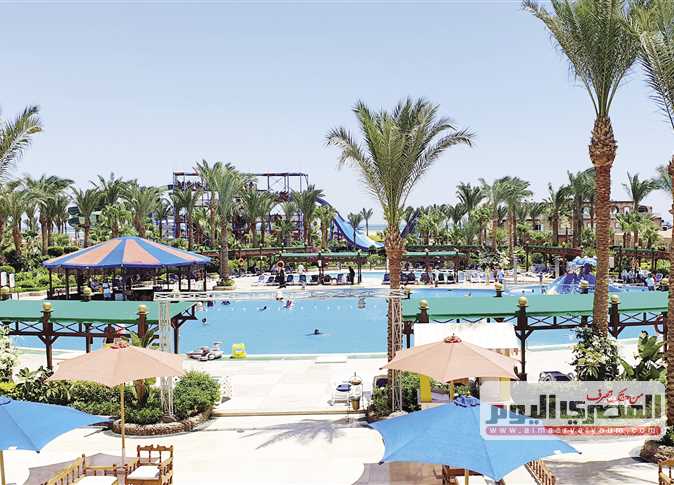 Egypt's Hurghada hotels and tourist resorts announced that they are fully booked for the upcoming Eid al-Adha holiday, with bookings reaching 50 percent of total capacity, the maximum set by the Egyptian government for tourism in order to help curb the spread of coronavirus.
Hotel workers said that prices have risen for the first time since hotel operations resumed in mid-May. The price of an all-inclusive stay in a double room in some well-known resorts has reached about LE 3,000, while the price of a one-night stay in a hotel ranges between LE 1,800 and LE 3,000.
The price increases, the workers said, reflect a high number of Egyptians looking to vacation in Hurghada, the seat of the Red Sea Governorate.
The Red Sea Governorate announced that it is fully prepared to receive visitors, and has tightened security measures at its airport, in tourist resorts, hotels, and on main roads. It has also secured public and private beaches, increased the number of lifeguards, and deployed a large number of radar devices on roads around the clock to reduce speeding violations in order to preserve the safety of citizens.
The Ministries of Health and Tourism decided to send inspection committees to resorts and hotels to ensure that precautionary measures to confront the coronavirus are followed, to check on services provided to guests, and to inspect the quality of food and beverages.
Regarding tourism in Alexandria, Chairperson of the Alexandria Chamber of Tourism Ali al-Manesterly said that the rate of hotel reservations in Alexandria has been about 70 percent of the allowed capacity, while hotels on Egypt's North Coast have been booked at 95 percent of the allowed capacity.
In statements made to Al-Masry Al-Youm, Manesterly said that bookings in 25 hotels in Alexandria and on the North Coast have reached 80 percent of the allowed capacity. He indicated that the reason for the high occupancy rate is due to the fact that the Eid holiday this year coincides with the height of the summer season.
He explained that there is an increase in demand in conjunction with the resumption of hotel operations and the decrease in coronavirus infections.
Manesterly said that the current occupancy rates are expected to rise throughout the summer season, especially since Alexandria and the North Coast are among the areas most committed to the precautionary measures set by the government to preserve public health.
Edited translation from Al-Masry Al-Youm