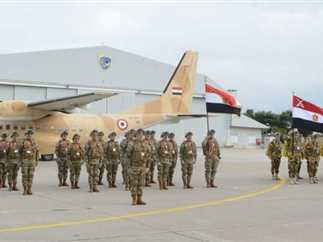 The joint naval air force training, Medusa- 11, which will continue for several days, has been launched in Greece, with the participation from the Egyptian, Greek, Cypriot and Emirati armed forces; as well as the participation of the Hashemite Kingdom of Jordan as an observer.
Egypt's Mistral helicopter carrier Gamal Abdel Nasser and a number of naval departments from the Navy Special Forces, in addition to a number of multi-tasking aircraft, are participating in the training.
Naval College students on their external training camp are also participating.
The training activities began with the Egyptian and Greek Navies carrying out a naval training in the southeast of Crete during the outbound trip, as well as presenting theoretical lectures to unify combat concepts among the participants.
Several training activities are scheduled, including planning training, managing joint naval and air operations, and carrying out sea and air landing operations with the participation of the Special Forces.
The training comes under the Egyptian armed forces' plan to exchange experiences and enhance aspects of military cooperation with their counterparts from friendly countries.
‏