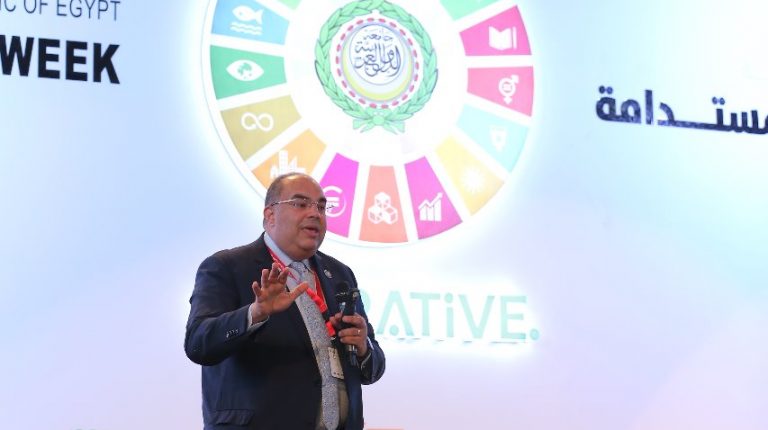 The Egyptian candidate Mahmoud Mohieldin was elected unanimously on Monday to serve as the International Monetary Fund's (IMF) executive director, as well as serve on the fund's board of directors.
On the board, Mohieldin will represent a group of Arab states including Egypt, the UAE, Bahrain, Kuwait, Oman, Qatar, Jordan, Iraq, Lebanon and Yemen.
Mohieldin thanked President Abdel Fattah el-Sisi for the nomination, as well as the continued support from the government the Central Bank of Egypt (CBE).
Mohieldin said that his work with the IMF will be focused on supporting Arab countries in achieving their economic and development goals through financial and monetary policies.
He highlighted the importance of his role at this time, as Middle Eastern countries are facing major challenges due to the coronavirus pandemic and its repercussions on economic condition.
Moheildin cited a regional decline in growth rates coupled with increased unemployment and debt as two major issues stemming from the global pandemic.
Additionally, stimulating the private investment sector to facilitate growth and promoting balanced policies appear on Moheildin's agenda. He intends to tackle difficult issues such as poverty, unemployment, income inequality, and climate change.
Mohieldin will succeed in this position Egypt's former Prime Minister, Hazem al-Beblawy, who will step down at the end of October.
Prior to this post, Mohieldin served as the World Bank's Group Senior Vice President for the 2030 Development Agenda, United Nations Relations, and Partnerships until January 2020.
Before joining the World Bank, Mohieldin held numerous senior positions in the Egyptian government, including serving as the Minister of Investment from 2004 until 2010.
Mohieldin is a professor of economics and finance at Cairo University, an honorary professor at Durham University and a member of the Advisory Board of the Durham Business School. He has held several leading positions in national and regional research centers and think tanks.
Moreover, he has authored numerous publications and articles in the subjects of international finance, economics, and development in English and Arabic.
He received a PhD in economics from the University of Warwick, an MS in economic and social policy analysis from the University of York, and a BS in economics from Cairo University.
Edited translation from Al-Masry Al-Youm