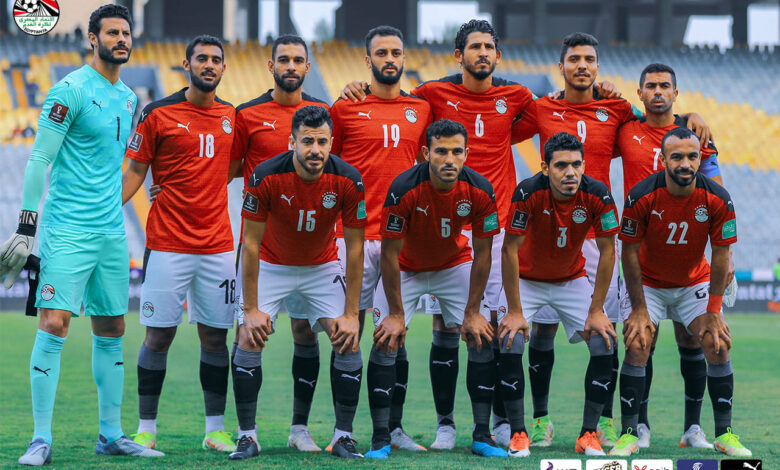 The Egyptian ambassador to Doha, Amr al-Sherbiny, and members of the Egyptian embassy on Saturday evening received the mission of the first Egyptian football national team in Qatar.
The first team is scheduled to participate in the Arab Cup, currently being held in Qatar, from November 30 to December 18.
The mission included 22 players, while Ahmed Hegazy is joining from Saudi Arabia. Upon its arrival, the mission took precautionary measures in the residence hotel.
The team's participation in the tournament is scheduled to start on Wednesday, with the Lebanese team meeting at 3:00 pm Egypt time at Al-Thumama Stadium in the fourth group, which includes the Sudan and Algeria teams.
Carlos Queiroz said, during the press conference on Saturday before traveling to Doha that the Arab Cup is a preparatory tournament to discover new faces in the team.
The Portuguese coach refused to comment on reports about receiving an offer from Manchester United.
"I am here to talk about the Egyptian national team only, and about the national team's interest, and not to talk about anything else," he stressed.
The Egyptian national team performs its first training session in the Qatari capital, Doha, on Sunday, in preparation for the start of the Arab Cup.
Meanwhile, Minister of Youth and Sports Ashraf Sobhy met with Qatar's ambassador to Egypt, Salem bin Mubarak Al Shafi, at the Olympic Center in Maadi on Sunday.
The meeting dealt with ways to enhance joint cooperation and partnership between the two countries, especially in youth and sports work.
The meeting also dealt with the Egyptian national team participating in the Arab Cup held in Qatar.
At the beginning of the meeting, the Minister of Youth and Sports welcomed the ambassador, pointing to efforts to strengthen relations between the Egyptian and Qatari in various fields, especially in the youth and sports sectors.