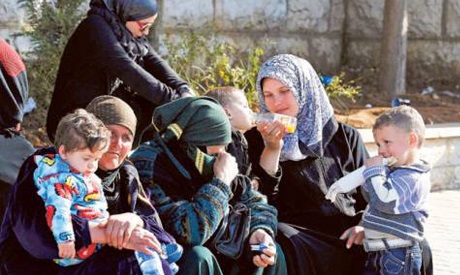 Egypt's Parliament Speaker Ali Abdel Aal announced that Egyptian authorities have declined a proposal by the EU to establish their refugee camps in Egypt, according to a report by German newspaper Welt am Sonntag on Sunday.
Abdel-Aal told the newspaper that establishing EU reception facilities in Egypt would "violates the law and constitution of our country," as legal immigrants in Egypt have the right to choose where they live and should not be forced into camps.
Egypt has had this same stance towards the refugee crisis from the very beginning. In 2017, Egypt's Foreign Minister Sameh Shoukry refused the same offer when it was presented during his meeting with European Commissioner for Migration, Home Affairs and Citizenship, Dimitris Avramopoulos.
In August 2017, the  United Nations High Commissioner for Refugees (UNHCR) in Egypt announced that Egypt has 209,000 registered asylum seekers. However, in 2016, Egyptian President Abdel Fattah Al-Sisi said that Egypt had around 5 million refugees (registered and unregistered).
Egypt and Germany signed a deal on illegal migration and refugees. The deal stipulates that Germany will give Egypt €28 million in grant for technical training, education and providing help in the small and medium size enterprises sector.
During German Chancellor Angela Merkel's visit to Cairo in March, some German media outlets indicated that Merkel could have an agreement with President Sisi on the migration crisis.
With the refugee crisis breaking in 2015, several countries collaborated to find places for the displaced refugees. In, November 2016, Egypt and Germany agreed for Egypt to settle 500,000 refugees, announced Interior Minister of German state of Baden-Wuerttemberg, Thomas Strol.
Germany struck a similar deal with Tunisia in 2018, according to AFP.
A meeting took place between Egypt and the EU in December 2017, where they agreed on a cooperation program.
In a statement released on Saturday, Egyptian Foreign Ministry spokesperson Abu Zeid announced that Portugal and Egypt have agreed for some EU countries to take over some refugees from neighboring countries. This includes Portugal resettling 400 refugees who currently live in Egypt during the period of 2018/19.
"This fruitful cooperation with Portugal comes in the framework of a comprehensive dialogue between Egypt and the European Union on migration, and in light of the efforts Egypt exerts with EU to resettle a number of refugees residing in Egypt," the statement read.