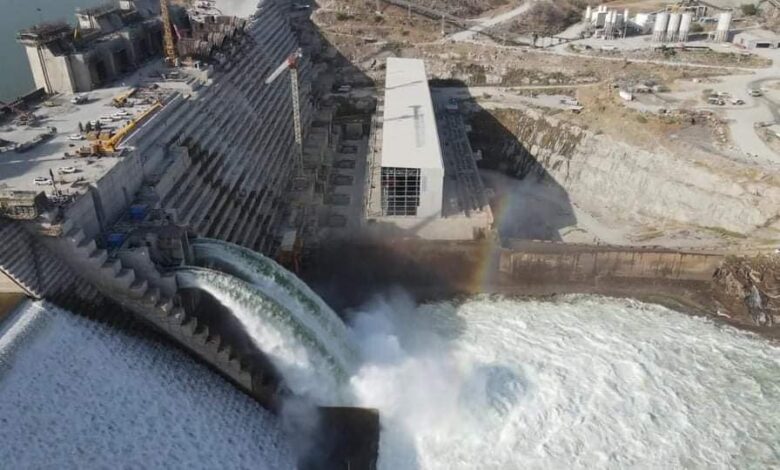 Egyptian President Abdel Fattah al-Sisi said on Sunday that his country is looking forward to reaching a balanced and legally binding agreement on the Grand Ethiopian Renaissance Dam (GERD) as soon as possible, without any further delay.
During his speech at the opening of the fourth edition of Cairo Water Week, Sisi added that this target comes in line with the statement issued by the UN Security Council in September.
The Cairo Water Week is being held between October 24th-28 under the theme "Water, Population and Global Changes: Challenges and Opportunities."
An agreement also would help achieve Ethiopia's development goals, which Sisi stressed "we understand and even support," while at the same time limiting all environmental, social and economic damages of the dam on Egypt and Sudan.
Sisi also confirmed that Egypt has drawn up an integrated strategic plan for the management and development of water resources until 2037, with an initial estimated cost of US$50 billion, in order to meet the huge and complex challenges it is facing here.
Egypt is the driest country in the world with the lowest rate of precipitation among other countries, he said, leading to its dependence almost exclusively on the waters of the Nile River.
Egypt and Sudan say they want a legally binding agreement, while Ethiopia says any pact should be advisory.
Egypt and Sudan consider the dam a threat to their vital water supplies, while Ethiopia considers it essential for development and doubling its electricity production.
The downstream nations fear possible blows to water facilities, agricultural land, and overall availability of Nile water.
Negotiations over the dam between Egypt, Ethiopia, and Sudan have stalled for years, with the three parties ultimately failing to reach any agreements.
The disputed dam is the largest hydroelectric project in Africa, with a cost of more than four billion dollars.