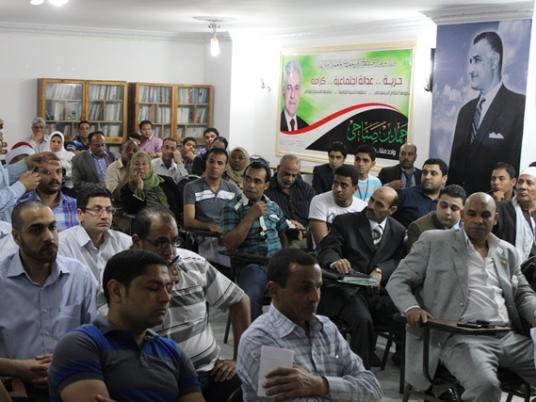 Amid the hype surrounding the upcoming presidential election, little is being said or done by the contestants to address issues of cultural policy.
While some candidates haven't released their platforms yet, others have ignored cultural policy altogether. The few that discuss culture make brief and rather general statements.
In these statements, there is some discussion of institutional reform and censorship as well as overt references to the preservation of Egypt's cultural might.
Amr Moussa, whose campaign is heavily invested in presenting Moussa as the antithesis to Islamist candidates, devotes one page out of his 88-page long platform to details on cultural policy. According to his vision, a "Council for Culture and Arts" will be set up, but it is not clear how this council's role would be different from that of the Culture Ministry or the Supreme Council of Culture. As the Culture Ministry and its affiliated institutions are often associated with inserting the ruling regime's values and ideologies into the cultural production process, questions loom around the function of Moussa's proposed council.
The rest of Moussa's cultural platform is more rhetoric than substantial policy proposals. Moussa vows that Egypt will retain its position as a center for arts and culture, to free creativity from the grip of censors and to support intellectuals financially. In an interview with local weekly cultural journal Akhbar al-Adab, Moussa asserted the importance of culture and drew a comparison between the Nazi regime's neglect of culture, which he said contributed to its fall, and the emphasis different French regimes placed on culture, which caused them to flourish.
Muslim Brotherhood defector Abdel Moneim Abouel Fotouh's platform is not that different. Cultural policy is largely absent aside from some short and general statements around encouraging local cultural initiatives, supporting talent in literature and arts, and supporting what is referred to as "high art."
Cultural policy is also scarce in the published platform of Nasserist candidate Hamdeen Sabbahi, except from references to a cultural project he would implement to bring about the renaissance in Egypt and help it remain a leader in cultural production. Ahmed Kamel, one of Sabbahi's political advisors, admits that these statements are general, but promises that a complete cultural platform will be released in the coming days.
Kamel stresses that the independence of the cultural sphere should be guaranteed by Parliament. He also says that the Culture Ministry needs to be restructured to become a liaison between the state and independent groups, and to place greater emphasis on local practices in the governorates.
Kamel says that Sabbahi thinks that "the 25 January revolution values of fraternity should prevail." He emphasizes the necessity of purposeful cinema and TV production, which the state has to sponsor. Censorship, according to him, should emanate from the people through a parliamentary committee. When asked how a predominantly Islamist Parliament would work to protect intellectuals from censorship practices, Kamel replies, "We have to accept democracy to the end."
Islamist candidate Mohamed Selim al-Awa makes no reference to cultural policy in his platform, even though he has a background in cultural production. He is president of the Egyptian Society for Culture and Dialogue, and he is the author of various books on Islam. But Hassan Kamal, the manager of his campaign, says that culture and education are related in Awa's vision. "We have to free education and center it on the building of the human," he says. According to Kamal, a connection is also drawn between culture and tourism in the campaign, whereby the promotion of cultural heritage is central to encouraging tourism.
Kamal emphasizes Awa's belief that the cultural sector should be independent from the ruling authority. "Awa won't impose one ideology over another in Egypt," he says.
The Muslim Brotherhood's candidate, Mohamed Morsy, who hails from the country's largest organized political group, makes no reference to culture, nor does the platform of leftist candidate Khaled Ali, whose following includes young intellectuals.
For novelist Mekkawi Said, this visible neglect of culture is problematic, especially as the cultural sector is facing increased attacks at the moment. Renowned actor Adel Imam's conviction for insulting Islam in his films is a case in point. However, Said says that these attacks are helping intellectuals unite in spite of their differences.
"I hoped to find detailed views on culture [in the candidates' platforms], but culture is absent because of the more urgent political and social issues," says novelist Ibrahim Abdel Mageed. Abdel Megeed thinks that intellectuals' circles are limited, making candidates less likely to address their needs.