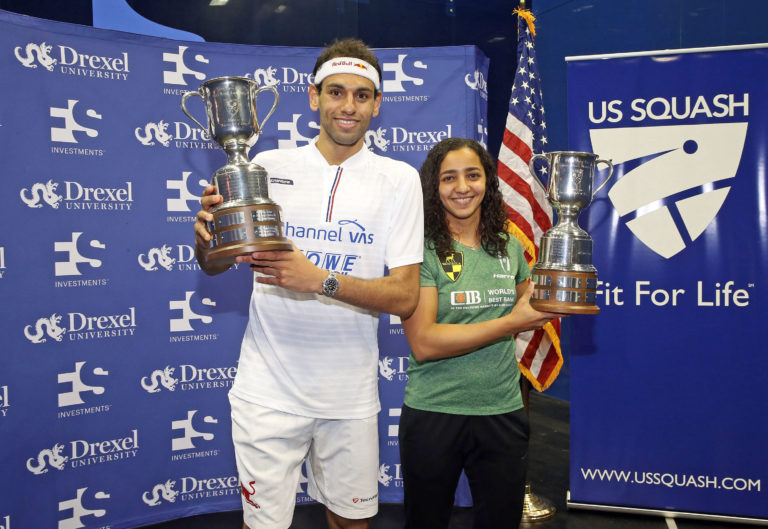 Egyptian Raneem al-Welily has won the US Open Squash Championship after beating Egypt's Noor al-Sherbini 3-0 in a pure Egyptian final.
The world #2 Welily upended world #1 al-Sherbini in three games.
Welily prevailed in commanding fashion. The 29-year-old surged to an 11-6 first game, then fired her way back from a 7-9 deficit in the second and 5-7 deficit in the third to claim her first US Open title 11-6, 11-9, 11-8 in thirty-three minutes.
"Nour has had a great week and has played really well and I look forward to many more matches this season," Welily said.
"I'm sure she will come back fighting and they will be good battles."
Meanwhile, Egyptian Mohamed al-Shorbagy won the title for men last night after beating Germany's Simon Rösner.
Rösner came out firing in the first game, pushing the world No. 1 in an 11-8 first-game victory. After Shorbagy edged the second 11-8, Rösner again mounted a challenge in the third, forcing errors from the world #1 and firing off some incredible winners to take the game 11-6 and earn a 2-1 lead.
In the fourth game the Egyptian maintained a slight lead throughout, earning three game balls and converting on the second to force a fifth game. The fifth game was all al-Shorbagy, as Rösner's error count rose for the first time in the match to allow Shorbagy to pull away from 3-2 to win the match 11-4 after seventy-three minutes.
"I need to give credit to Rösner, he played amazing throughout the whole week," Shorbagy said. "I'm pleased we had a fair battle. I am pleased to win my third US Open title, I lost last year and I was a bit disappointed, but I lost to the better player and had no regrets. This year, I wanted to come and try and do one match better and luckily I was able to do that and it came together this week."
Edited translation from Al-Masry Al-Youm