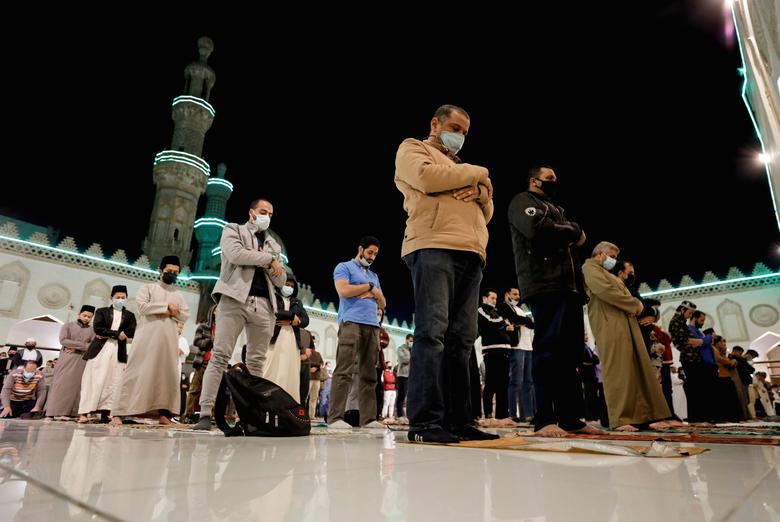 The Egyptian Minister of Religious Endowments Mohamed Mokhtar Gomaa has banned Tahajjud prayers (night prayers) in mosques their annexes and their surroundings, only allowing Tarawih prayers.
He stressed that no ministry employees will be allowed to violate this decision.
"Pray the Tahajjud prayers in your homes," Gomaa said, explaining that this decision comes in line with the instructions from the Higher Committee for the Management of the Coronavirus Crisis.
The ministry laid down several rules to be following when observing this year's Tarawih prayers:
Wear a facemask.
Take a personal prayer rug.
Adhere to social distancing.
Do not open the toilets.
Shrines remain closed.
Social events remain banned in mosques or their annexes.
Funeral prayers remain limited to open areas and not at the time of the five prayers.
No Iftar banquets in mosques, its annexes or its yards.
Eatiikaf (staying for days in mosques for worshiping) is forbidden.
Tarawih prayers will be no more than half an hour, without giving any lessons or sermons.
Women's prayers rooms in big mosques can be opened for Ishaa and Tarawih prayers upon certain conditions, provided that they don't bring children and/or food, and are with full compliance to precautionary measures.
No lessons, seminars, recitations or activities other than performing the five prayers are allowed.
A mosque is to be opened ten minutes before the Adhan and to be closed ten minutes after prayers concludes, allowing the mosque to remain open for no longer than half an hour after the Adhan.
Edited translation from Al-Masry Al-Youm