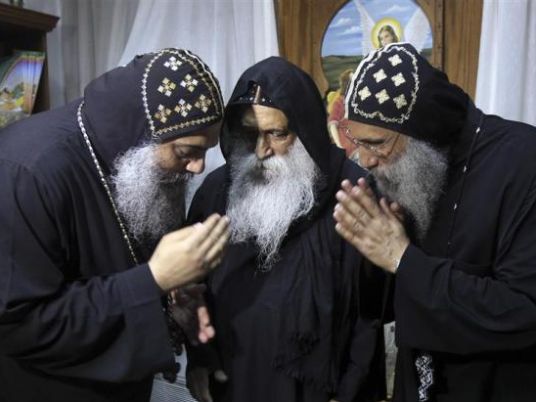 Egypt's president Abdel Fattah El Sisi allocated 109.96 acres of state lands near Bani Ghaleb in Assiut governorate to be turned into Coptic cemeteries, according to an official presidential decree published in Al-Masry Al-Youm on Thursday, June 20.
Earlier this year, President Sisi inaugurated the country's largest cathedral in the new administrative capital, which he visited last winter on the Coptic Orthodox Christmas Eve.
Established on 404 acres, the new church has the capacity to accommodate about 8,200 worshippers in addition to massive and numerous halls, meeting rooms and more, according to Al-Ahram.
Regarding the population of Copts in Egypt, Bishop Daniel, the Egyptian Coptic Orthodox Church Pope Tawadros's deputy, previously stated that Egyptians Copts currently make up more than 15 percent of Egypt's total population, and claimed that they should not be called a minority anymore, Al-Masry Al-Youm reported.
The Egyptian Coptic community represents the largest minority in Egypt.
A significant majority of Egyptian Copts are present in Upper Egypt, and they have a concentrated presence in several governmental institutions. Furthermore, Coptic members are present in numerous political parties, according to Refworld website.
The 2015 parliament includes 39 members. The 2011 parliament had only three Christian members. The current government encompasses two ministers including Nabila Makram, Minister of Immigration and Egyptian Expatriates' Affairs, and Minister of Social Solidarity Ghada Wali.