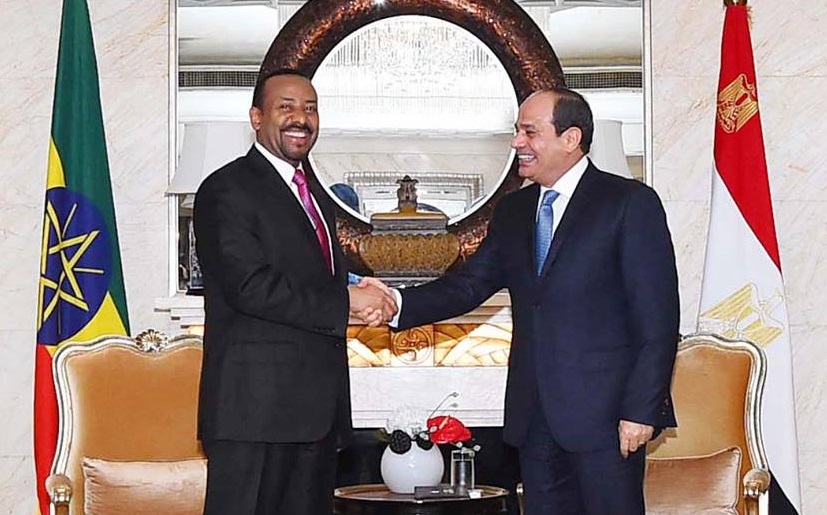 Egyptian President Abdel Fattah al-Sisi on Sunday received Ethiopian Prime Minister Abiy Ahmed at the Chinese capital Beijing, where they discussed various topics such as the status of the GERD.
Egypt's presidential spokesperson Bassam Rady said that the two sides stated their keenness to maintain mutual cooperation regarding bilateral relations.
Sisi stressed the importance Egypt holds in it's relationship to Ethiopia and its keenness to enhance communication between them, aiming to achieve joint interests and maintain their close bonds.
Rady added that Ahmed expressed a keenness to meet with Sisi again since his last visit to Cairo in June 2018.
The two sides aimed to reach an agreement on the Grand Ethiopian Renaissance Dam (GERD) which guarantees Egypt's water rights in the Nile River, and also protects  Ethiopia's rights to further their development.
They also agreed on the importance of enhancing economic cooperation and trade exchange between the two countries within the future.
In 2011, Ethiopia started construction on the GERD over the Blue Nile River, one of the major sources of the water that forms the River Nile downstream.
Ethiopians see it as is a great national project and a means of overcoming poverty. Egypt, however, feared the dam will affect its historic Nile water which it has had access to since the historic 1959 agreement with Sudan.
Egypt's share of Nile water sits at 55.5 billion cubic meters, while Sudan's quota is 18.5 billion cubic meters.
This is in accordance with an agreement signed between the two downstream countries in 1959; Ethiopia is not part of this agreement. Ethiopia reassured Cairo that its water share will not be affected.
Edited translation from Al-Masry Al-Youm