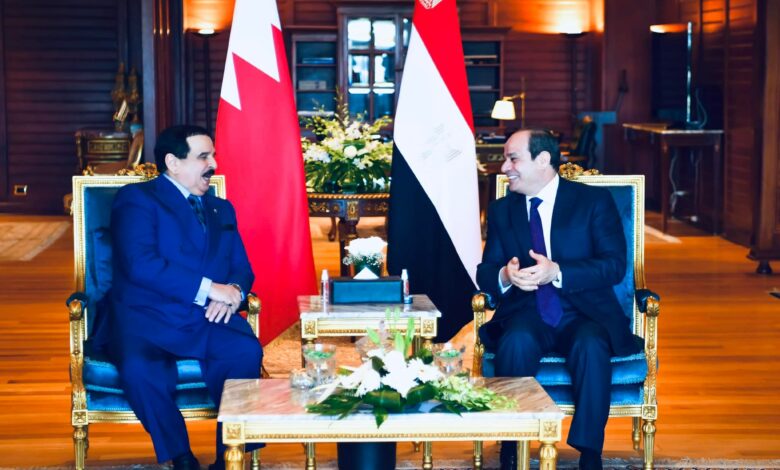 Egyptian President Abdel Fattah al-Sisi on Saturday received Bahrain's King Hamad bin Isa Al Khalifa at Sharm el-Sheikh in the Red Sea.
Egypt's presidential spokesperson Bassam Rady said that President Sisi affirmed Egypt's pride in the historical ties between both nations.
Sisi added that his nation eagerly desires to continue strengthening bilateral cooperation with Bahrain, intensifying coordination towards developments in the Middle East and strengthening unity and joint Arab action in facing various regional and international challenges.
King Hamad bin Isa expressed his sincere appreciation for the warm reception from President Sisi, and hailed the close bond his nation shares with Egypt.
He said his current visit to Egypt serves as a continuation of the long-standing historical ties between the two countries.
Brotherly ties
The Bahraini king also praised Egypt's pivotal and firm role as a mainstay for security and stability in the region, and its appreciated efforts to promote joint Arab action at all levels.
He hailed the qualitative development in Egyptian-Bahraini relations within various fields including politics, economics and development, and wished to move further in strengthening them.
Rady stated that the meeting witnessed discussions on further prospects for joint cooperation between Egypt and Bahrain, especially in the economic and investment fields, by making optimal use of all available opportunities to enhance cooperation between them.
The discussions also dealt with some of the most prominent regional and international issues, reflectng a mutual understanding between the two sides regarding ways to deal with these issues.
An agreement was reached to maximize Egyptian-Bahraini cooperation and coordination to develop the joint Arab action system, which helps protect Arab national security and enhance Arab capabilities.
The two leaders also welcomed the upcoming summit to be hosted by Saudi Arabia between the leaders of the Gulf Cooperation Council countries, Egypt, Jordan, Iraq and the United States of America.